To boost sales and increase profits, you should plan your content strategies, advertising campaigns, and promotional plans ahead.
In online retail or media publishing, you should use every opportunity to drive traffic and sales and, of course, to convert users into regular customers. Holidays are the perfect occasions for targeting. Priority is to find events that are relevant to your company goals. The marketing calendar with important dates is here for you.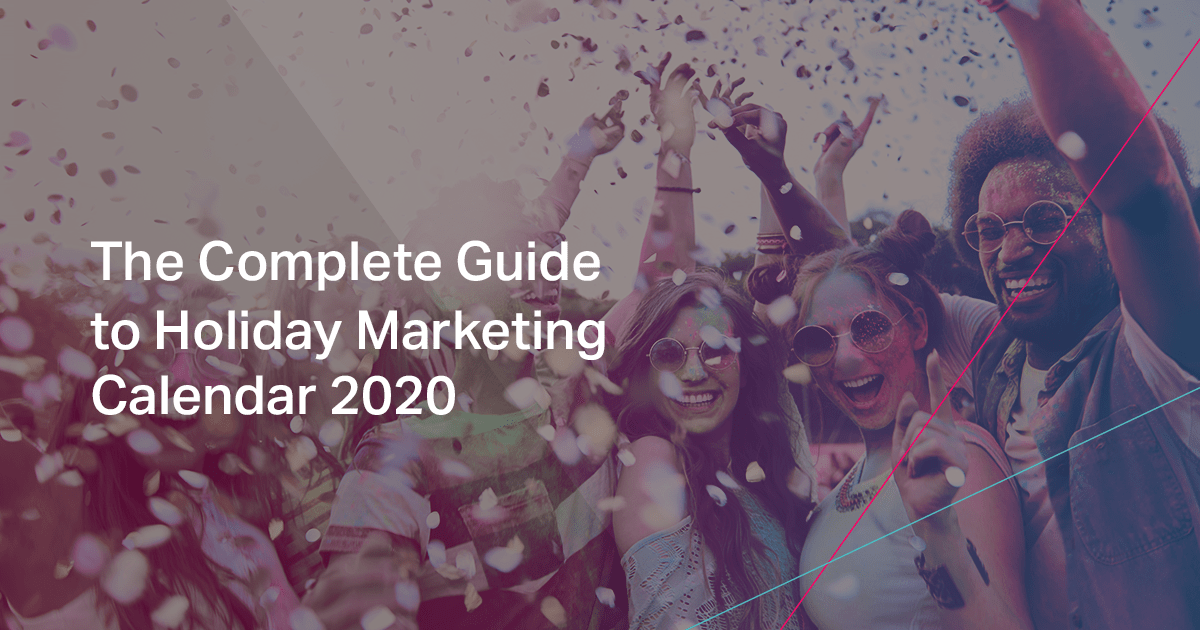 Use the dates below to make 2020 a profitable year!
To help you start planning and save your time, we share a list of 30 world-famous feasts. Create a schedule and target your audience throughout the whole year. We recommend some ideas on how to do it meaningfully as even a good reason to celebrate can become a brand's disaster or even crash.
Important dates and holidays in Q1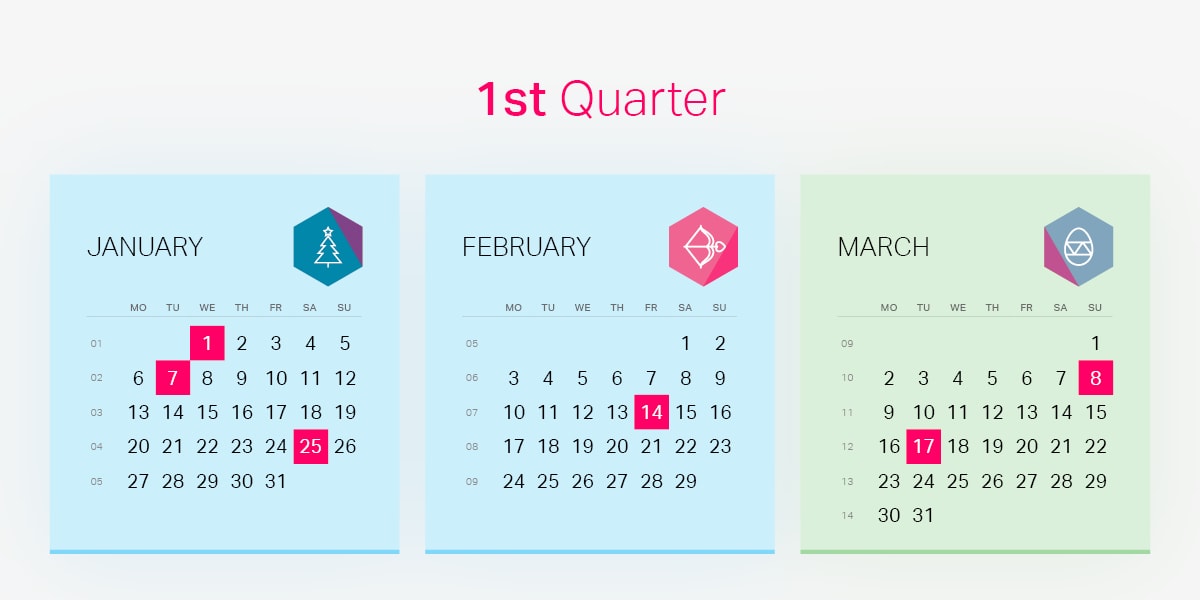 New Year's Day, January 1
Some countries celebrate New Year on different days. In China, it comes from January 21 to February 21, depending on the moon phase. Indians celebrate the feast a few times per year. Moreover, many countries have different calendars. According to the Iranian Calendar, now it is 1399. So that's the large message to your marketing department. Check the New Year dates before the mailing of greeting cards and promotional offers to the audiences.
A new year is a good chance to start all over again. Many people like challenges, bucket lists, commitments. They often adopt a new lifestyle or improve any skills. Use these facts in your marketing campaign. Help your customers reach their goals providing them with useful content or discount offers. And give them anything for free. People love giveaways.
Christmas Eastern Orthodox, January 7
Following the Julian calendar, the Orthodox Christian community observes the birth of Jesus Christ on January 7. So if your target audience lives in Ukraine, Bulgaria, Russia, or other places with Eastern Orthodox Christian society, prolong your Christmas campaign that you will likely prepare before December 25.
Christmas is a spiritual time. Everyone joins the family and eats a home-cooked meal. People usually give extraordinary gifts by purchasing them during the winter sales. Set special offers to your customers too attracting their attention via social media channels, email campaigns, and advertisements. Write a blog post on how your business is preparing for the Christmas time or share any present ideas, for example.
Chinese New Year, January 25 – February 8
This year, China has been observing the New Year Day from January 25 to February 8. The festival is based on the Lunar Calendar, that's why the dates vary a little every year. During the two-week celebration, people participate in such festivals as Spring Festival, Lantern Festival, and Dragon Boat Festival.
It's one of the brightest holidays in Chinese culture. If you work with the Chinese community or target people who adhere to the Chinese horoscope then include this holiday in your marketing strategy. Use Rat, the symbol of the year, as your main content and design element. Why not?
Valentine's Day, February 14
The feast of love has spread around the world. People from every corner of the planet mark this day presenting romantic gifts such as flowers, candies, soft toys, jewelry, and Valentine's cards. Of course, it is not the whole list of stuff that lowers give to each other.
Preparing your Valentine's Day marketing campaign, leverage fresh ideas to launch holiday traffic. Send charming emails with Valentine's cards inside. Set some social media activity adding relevant hashtags to your posts. Write a blog article revealing new thoughts on how to spend the day of love and friendship.
International Women's Day, March 8
March is a women's month. They celebrate the feast of rights and gender equality. If your audience consists of ladies mostly, it's one more chance to pay attention to your female customers and launch campaigns to make the most out of this girls' holiday. Moreover, the date is associated with the beginning of spring. Use the elements of this season for creating the design of your emails or a website.
To be different from your rivals, create a user-generated content (UGC) campaign and give a discount or a gift to award a winner. Also, write about female entrepreneurship or women from your industry and post the article to your blog and Facebook. Storytelling drives traffic and brings leads. You can support any local women community and run a charity. If females are the principal readers or buyers of your business, celebrate the women day all year round.
St. Patrick's Day, March 17
People from the United Kingdom, Canada, the United States, Australia, and New Zealand celebrate St. Patrick's Day, though the date is well-known everywhere. It is a cultural and religious holiday established on the death day of Saint Patrick who was the foremost patron of Ireland. Traditionally, everyone who observes this feast wears green clothes and anything shamrock-shaped and participates in beer and musical festivals.
Important dates and holidays in Q2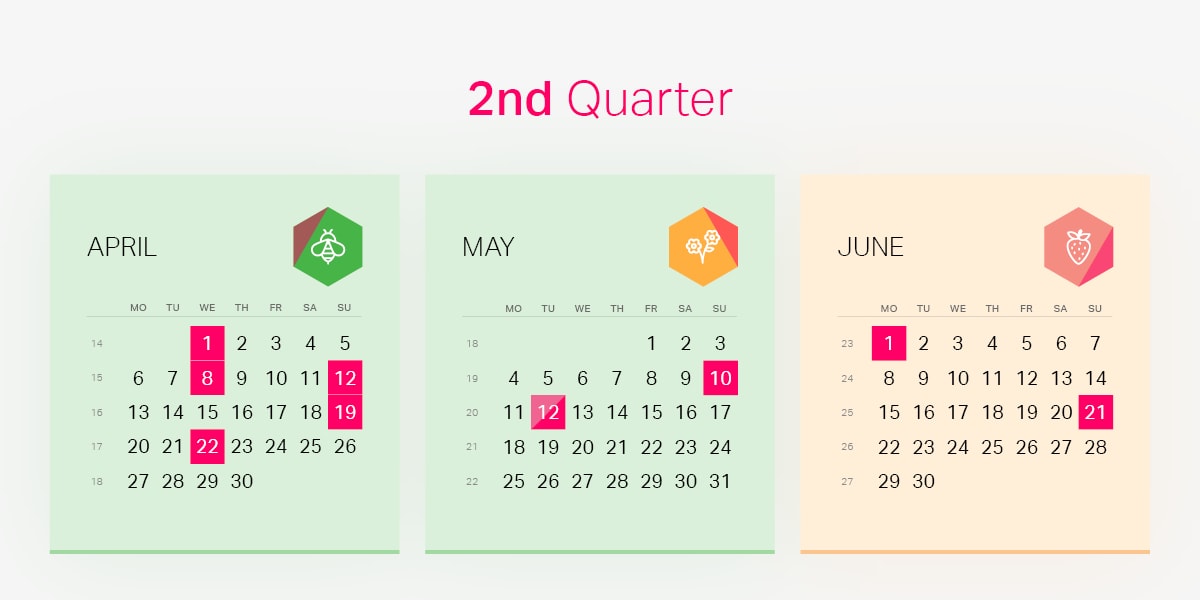 April Fools' Day, April 1
There is another good reason to show your sense of humor and add some cheerful mood to your brand's tone of voice. Fools' Day is famous in different countries, but mostly in the West. The main idea of April Fools' Day is to joke and have fun. Usually, folks take part in various fests and wear extraordinary costumes.
To drive engagement on this day, launch short videos on your social media channels, Youtube or your website. This way, you may use a viral marketing strategy to grow the audience.
Pesach, April 8
Pesach (or Passover) will be celebrating from April 8 to April 16 this year. It's one of the most important religious holidays in the Jewish calendar. Jewish people honor the liberation of Israelites whom Moses led out from Egypt.
Traditionally, a special home service called the seder includes a festive meal. Pesach is observed for seven or eight days depending on family customs. So make sure to congratulate your clients before the beginning of the major Jewish spring festival.
Easter, April 12
Easter and Christmas are two main Christian holidays, so don't miss the holy days to send the greetings cards to the audience that observes Easter Sunday. The dates of the holiday can be at any time between March 22 and April 25. Eastern and Western churches keep celebrating Easter according to the different calendars.
Easter (Orthodox), April 19
According to estimates, there are more than 250 million Orthodox Christians in the world. They celebrate Easter (or Pascha) based on the Julian Calendar as opposed to many western countries that follow the Gregorian one. A lamb, hard-boiled eggs, and red dessert wine are the most common Christian symbols associated with Easter.
Businesses who run spring sales around Easter are getting bigger and bigger. The first thing to remember is that holidays are religious. You do not need to speculate on them.
Earth Day, April 22
On this day celebrated since 1970, people support our planet's protection from man-made harm and ecological disasters. They hold events and participate in charity events. Your target audience is those who care about a huge oil spill, wildfires, extinction of some animal species, and conscious consumption.
You should analyze whether this theme is relevant to your business. But first of all, think if it correlates with your principles. If yes, demonstrate your company's attitude toward saving the planet. Charity events are a good idea as well. You can demonstrate how your products can contribute to such movements.
Mother's Day, May 10
Mothers, grandmothers, and mothers-to-be are the main figures of this day. The holiday recognizes the important contributions that women made to personal and social life. Mother's Day originates from the USA, where it remains one of the meaningful days of the year.
Besides, the holiday is popular in Canada, Australia, New Zealand, India, China, Japan, and most European countries. Since the celebration is becoming more marketable, many brands organize heartwarming campaigns. Many countries have different days for celebration, so verify them before targeting.
Eurovision Song Contest, May 12 – May 16
The international song contest released first in 1956 is little known in the USA because European countries mainly participate in it. The entertaining performances of the artists are always broadcasted live on air. Every participant presents an original song. In the final stage, television viewers and jury members vote for the winner.
Unfortunately, this year organizers announced the cancellation of the Eurovision Song Contest because of the recent outbreak of the Coronavirus COVID-19 virus. But we hope that it will take place next year and you will be able to speak about this event through your social media channels.
Cannes Film Festival 2020, May 12 – May 23
If the film industry is a close theme to your customers and potential audience, it's worth adding the festival to your holiday marketing strategy. One of the greatest film events along with the Berlin International Film Festival and the Venice Film Festival.
The movie news and reviews will always be on top. Compose the list of the most rated films or create your own short film and post it to the video blog. If your company is big, arrange polling for the best movie of the current year among the team members and publish the results on site. The event might be postponed or shifted to June or July over concern about a coronavirus outbreak.
International Children's Day, June 1
If you deal with children's products or topics of responsible parenthood, then this day should be on top of your holidays' list. The World Conference on Child Welfare proclaimed International Children's Day in 1925. Since that, people annually celebrate on the first day of summer. The events are devoted to children's rights and wellbeing.
Universal Children's Day, another similar event, falls on November 20. The United Nations established it in 1954 to protect all children around the world. If you do not know which date to choose for greetings, send your congratulations twice.
Father's Day, June 21
People who live in the US, Canada, European countries, India, China, and Japan besides Mother's Day celebrate Father's Day. Though, it's not such a commercial holiday as the 10th of May.
Many countries celebrate it on a different day, so check the dates before targeting the audience that is related to fatherhood. Reach high engagement by preparing some interactive content such as dad's quizzes, photo contests, and personality tests.
Important dates and holidays in Q3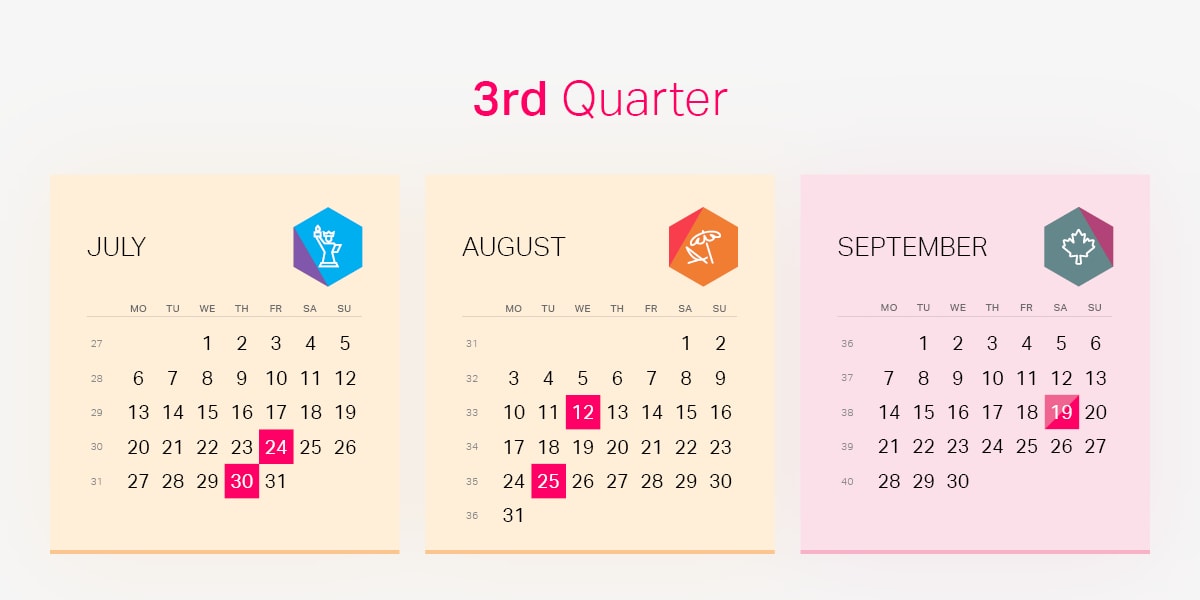 Summer Olympic Games, July 24 – August 9
The Summer Games of the XXXII Olympiad is one of the most expected events in the world of sport. Tokyo will be hosting for 17 days athletes and viewers across the globe this year. By the way, the Japanese capital will conduct a Summer edition of the Olympic Games for the second time. Besides, Japan hosted the Winter Olympic Games twice.
We highly recommend verifying the USOC's brand guidelines before carrying out any marketing campaigns. The reason is that it's prohibited to use the Olympic properties. To connect your products or services with the Olympics, associate your brand with motivational slogans.
International Day of Friendship, July 30
On the 27th of April 2011, the General Assembly of the United Nations declared 30 July as official International Friendship Day. Though as early as 1930, the founder of Hallmark cards incorporated the idea to celebrate the friendship.
Historically many countries commemorate Friends' Day on various days of the year. Prepare a few campaigns to launch them according to different dates. Set up a photo contest and give something for free to those customers who will post the funniest picture with their buddies on social media.
2020 UEFA Super Cup, August 12
It was going to be the 45th edition of the UEFA Super Cup, an annual football match, but due to the viral epidemic caused by the coronavirus COVID-19, the sports event can be canceled. The reigning champions of the UEFA Europa League and the UEFA Champions League, usually participate in the tournament. Unfortunately, the 16th UEFA European Football Championship that organizers were scheduling in June – Jule is postponed due to the virus too.
Such sad news is not a reason to stop observing sports events. You can still engage your customers and target sports fans across the world.
2020 Summer Paralympics, August 25 – September 6
During The 16th Summer Paralympic Games, Tokyo will be hosting top athletes with disabilities and supporters. The Paralympics participants are engaged in athletics, cycling, judo, rowing, swimming, volleyball and other sports.
Besides the Games news, you can build your marketing campaign using Japanese cultural symbols. Even if you do not have customers who are fond of sports, The Olympic and The Paralympic Games are worth particular mention in your media due to the social contribution.
Oktoberfest, September 19 – October 4
It's time to create some fun content around world-famous beer and musical festivals. If your target audience is from Germany or a fan of the event, you should not miss these dates. It's the world's largest beer fest that attracts more than 6 million visitors from different corners of the world to visit Munich.
Come up with a fun blog post to embrace the Oktoberfest spirit. Create funny marketing activities around your items or services. Finally, visit it by yourself and launch a live interactive show.
Rosh Hashanah, September 19
Rosh Hashanah is the Jewish New Year that falls in late September. It marks the start of the year 5780 on the Jewish calendar. Usually, Jews take 2 days off to gather with their families and prepare holiday meals. Together with Yom Kippur, it's an important feast that carries religious significance.
That's why do not make the greetings too commercial because unlike the traditional celebration of New Year, Rosh Hashanah is a time for reflection and repentance of sins.
Important dates and holidays in Q4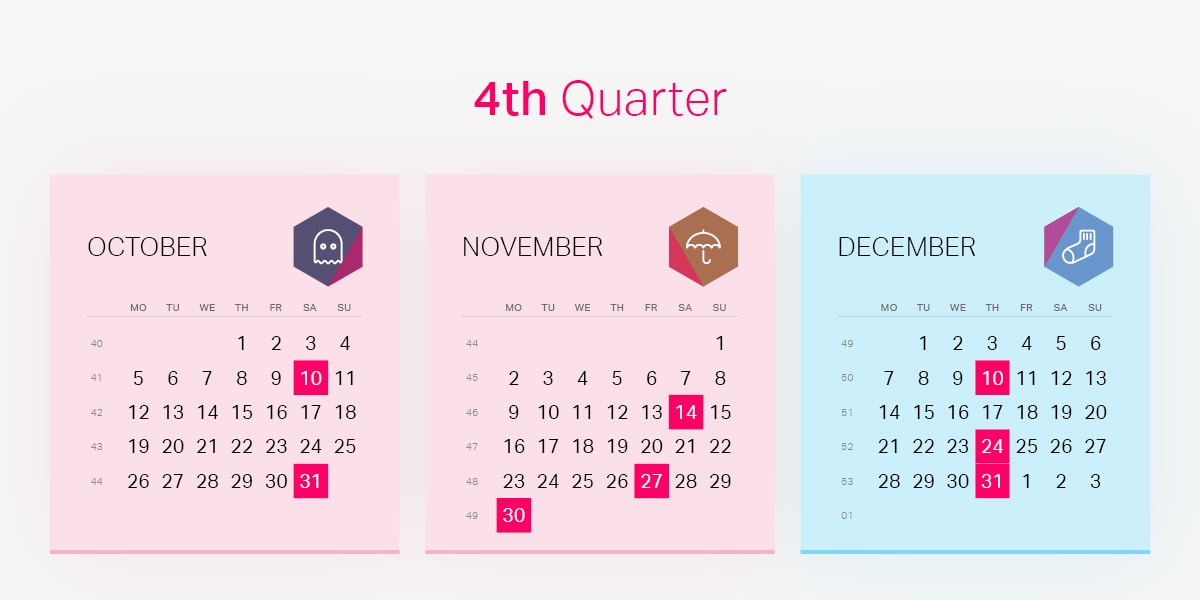 World Mental Health Day, October 10
The World Health Organisation recognizes this day every year with the purpose of suicide prevention in the world.
Although it's not a positive theme, you should highlight it, especially if your business is related to medicine.
Halloween, October 31
Halloween originally came from Ireland. It was a festival marked the end of the harvest season and the coming of winter. Now Halloween is one of the favorite days of millions of people. Western countries arrange celebrations that are usually accompanied by spooky and at the same time funny activities.
Add this day to your marketing plan as it is very popular among youth. Share some ideas with the audience about how your brand will be spending Halloween, showing the costumes and decorations you prepare. Send some "horrible" emails with the promotional offers of your products or services.
Diwali, November 14
Hindu Festival of Lights is one of the most popular holidays of all Hindus around the world. It honors the triumph of good over evil and light over dark.
Preparation for Diwali takes a lot of time. Families clean and decorate their homes as well as buy new clothes and accessories to present during the festival.
Black Friday, November 27
This crazy day means everything for the shoppers. It comes right after American Thanksgiving. If you run an e-commerce business, you must start preparing Black Friday sales as early as possible.
Some companies choose another way of using high consumer interest for this period. They promote slow and responsible shopping, of course, offering discounts too. This way, they look different during the holiday shopping season.
Cyber Monday, November 30
Monday right after Black Friday is known as Cyber Monday. In the last few years, people have been shopping online more on this day because some retailers set even higher discounts.
While Black Friday is associated with the regular offline business, Cyber Monday brings much traffic to the e-commerce brands. It is more popular in the USA and other western regions.
Hanukkah, December 10 – 18
The Jewish community commemorates The Festival of Lights which is continuing 8 days and nights. It's not the same as Christmas, even though families present gifts and organize common dinners. Before adding this holiday to your plan, make sure you learn about its origin.
Candles are the main symbol of Hanukkah. Use it in your promotional campaigns and greeting cards. Propose any coupons for future sales by sending triggered emails to your customers.
Christmas Eve, December 24 – 25
Christmas is a religious annual holiday that commemorates the birth of Jesus Christ. Billions of Christians around the world celebrate it gathering with their families for traditional meals and gifts exchange. Christmas is a public holiday in many places so prepare your congratulations beforehand.
Besides the special offers that every company tries to offer each year, concentrate on warm-hearted greetings and wishes. Don't miss to share some fresh thoughts in a blog on how to spend Christmas or how to prepare an unusual present. Give some hints demonstrating your stuff as well.
New Year's Eve
The last day of the year falls on December 31. Many countries celebrate it in pubs, nightclubs, at concerts or go to other public places. Traditionally, families gather at home for a common dinner to say goodbye to the year. After feasting and gifts exchanges, people watch or light fireworks. New Year's Eve celebrations go on the next day, on January 1. Besides public festivities, people from Ghana, South Sudan, and Bangladesh go to the church.
December is a perfect time to take stock of the achievements and challenges. And it's a good idea to tell your audience about the progress that your business has made for the passing year.
Build stable customer relationships using holiday marketing calendar
We hope this guide will help you create your own 2020 marketing calendar based on your business needs. Every event is a good reason to improve brand awareness and boost sales, so use the opportunities for sincere greetings along with marketing ideas.
Some holidays require thorough preparation. Start planning as early as possible to not miss important occasions and major holidays that are relevant to your brand.
To drive traffic on a constant basis, use our Demand Side Platform. It's a self-serve advertising platform for granular targeting to reach your audience and boost performance and sales.