Consent management platform
Consent management platform or CMP is a solution for the websites developed to manage users' consent and how their personal information is processed and inform such users of the details of data processing related to their visit. For example, when someone visits a web source, a pop-up message usually appears on the screen to inform of the data collection details and ask for permission to set cookies.
The CMP offers a set of tools that helps to automate and organize this process most efficiently. Moreover, it keeps up with personal data protection compliance demands due to the GDPR and other data privacy laws worldwide.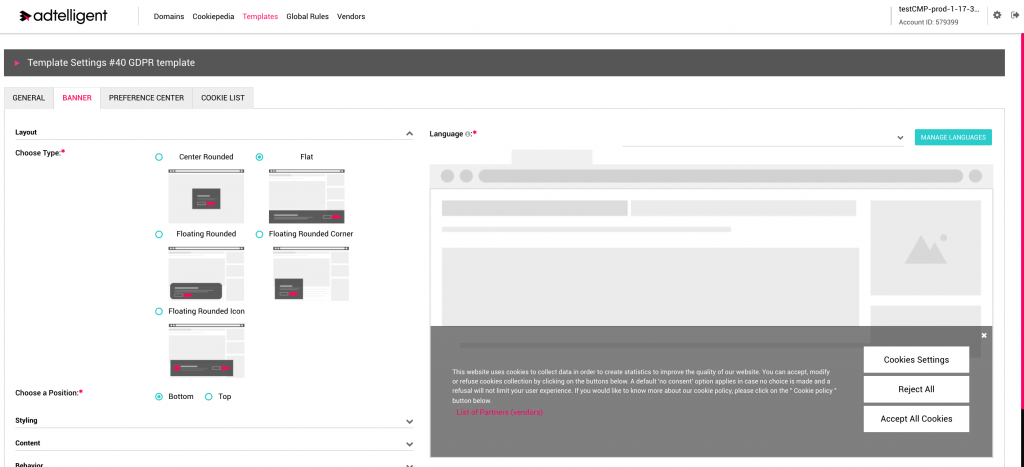 As a first step, the CMP informs website visitors about the types and specifics of data that can be collected about them and the purpose this data is used for later on. Then, CMP efficiently manages, structures, and processes users' data and provides users' consent for such actions.
Why do you need a consent management platform?
According to the latest polls, 65% of the world's population will have personal information covered under one of many privacy laws by 2023. With the growing number of privacy regulations worldwide, CMPs have become crucial in organizing any business that strives to survive and prosper in the modern reality of secure information collection, transparency data flow, and customer consent.
Here are a few reasons why everyone needs a CMP these days:
● Comply with the variety of data privacy laws
There are numerous privacy laws (e.g., GDPR, CCPA, LGPD, etc.) covering various users and locations; a consent management platform is the best ready-to-go choice for the website owner both to comply with applicable legislation in force and to keep up with all the numerous inevitable changes and novelties arriving weekly.
● Avoid fines and suspensions imposed for personal data mishandling
Violation of data privacy laws (no matter deliberate or negligent) leads to serious legal consequences. This usually includes procession limitations and a hefty fine. The graph below shows an excerpt of fines, which can be pretty considerable. No business is exempt from the compliance demands, and no company is out of risk.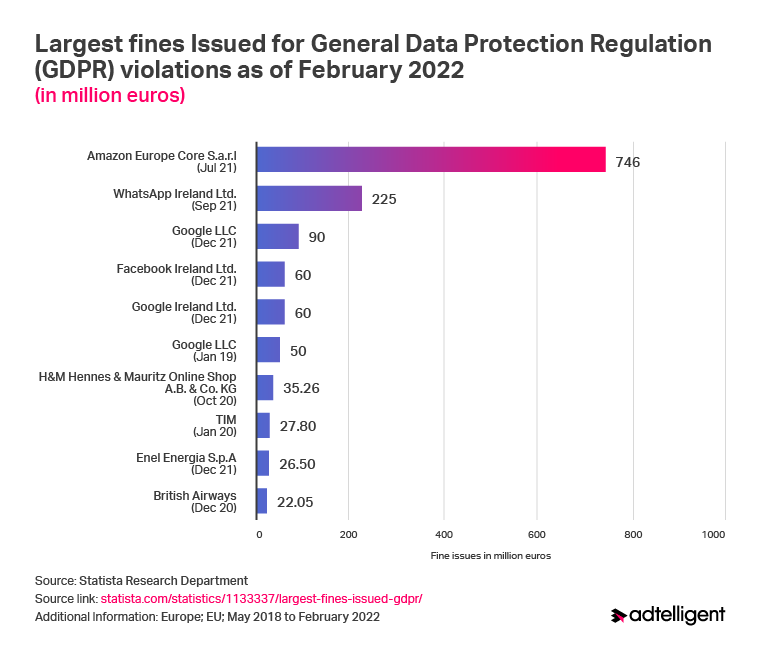 ● Keep up with the changes to the privacy laws
Automation of cookies handling might be crucial for companies to be up to date and compliant with the latest updates of privacy legislation.
● Boost user trust
It is quite simple – if you respect the privacy of your clients, they stay loyal to you. Providing your user with transparent information about personal data management, CMP contributes toward a better user experience, enhances trust, and improves the brand's image.
● Structure and manage data collection and handling of personal information
A CMP performs prompt cookies scan process, distinguishes first-party and third-party cookies set, filters trackers, asks for user consent, and organizes following handling of personal data per specific requirements of the data privacy laws specifically applicable to your business.
How to navigate data privacy laws
As we have already mentioned, there are numerous privacy laws to consider: the General Data Protection Regulation (GDPR), California Consumer Privacy Act (CCPA), Brazilian Data Protection Law (LGPD), Turkish Personal Data Protection Law (KVKK), Canada's Consumer Privacy Protection Act (CPPA), and many more. Therefore, it can be pretty challenging to determine the legal framework to follow and keep up with all the changes.
The only way to determine the scope of the law specifically required for your business is a constant analysis of your website's audience. It is essential to check the location of the visitors. Those local privacy regulations should be applied along with the homeland legislation of your company. Usually, it means complying with multiple regulations, both general, that cover economic zones or large areas, like the EU or the US, and specific ones that cover the narrow jurisdiction of some states and particular countries.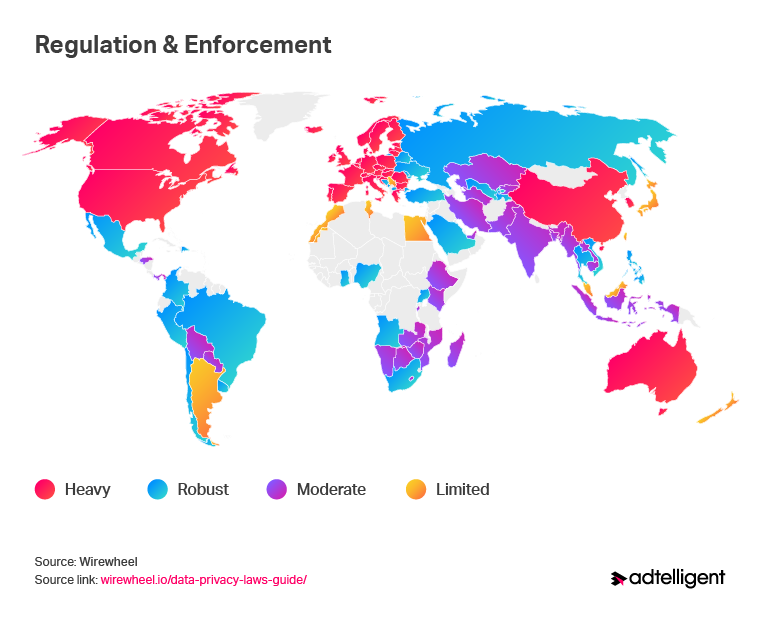 These are some major steps required to be prepared for various privacy legislative demands, as there are some standard features therein.
1. Determine weak privacy spots
Some websites fall into the temptation of preliminary cookies setting, not even aware of violating the users' rights to privacy and consent. We advise you to perform a cookie scan and see what software is used on a website and how it operates user-wise.
2. Integrate consent, opt-in and opt-out choices
Provide transparent consent. Free and informed opt-in or opt-out choice model depending on the region of your operation.
3. Study the digital pathways of the collected information
Some legal frameworks require additional safeguards if the user data leaves the country or continent, i.e., the GDPR. Others state that the data cannot be transferred to areas with less strict privacy rules.
4. Technical aspects of your software
Ensure that the data you collect is appropriately managed. The software responsible for this procedure is well equipped to protect the data.
Failure to comply with these rules can result in serious consequences for the business and its reputation in dealing with private data, affecting revenues and user trust. CMP can help with the tasks mentioned above and satisfy the need to adhere to multiple privacy laws at a time and follow their specific requirements. So, what exactly is needed to comply with GDPR – the biggest and the severest set of privacy rules.
Why is GDPR very important?
According to Ruth Boardman of Bird and Bird's International Privacy Group at IAPP GLOBAL PRIVACY SUMMIT 2022, this year, we expect to face the exponential growth of the GDPR violation rulings up to 10,000 claims. The extent of the problem shows that many online businesses still are not prepared or fully equipped to operate under the GDPR.
Fines for breaching the GDPR rules are quite substantial. The maximum penalty can go up to €20 million or 4% of a company's global revenue, whatever is more. These numbers can be topped up with the additional damage claims, attorneys' fees, etc. Let's see what aspects the GDPR does cover:
Data protection principles
Responsibility for the collected data
Safety of personal data
Data safety is the major factor in every aspect of online businesses
Need for Data Protection Officers
Justification of data collection
Consent is a must
GDPR stands for people's right to privacy
As you can see, GDPR touches upon numerous issues and requires a considerable amount of work with employees and the rethinking of a data flow within analytics software frameworks to comply. Moreover, depending on the size and capacity of the online company, it may be highly financially overwhelming to integrate all the changes. That is why consent management platforms are so important and handy when it comes to compliance with the GDPR demands and working with analytics platforms under these requirements.
How analytics software collects data?
Tracker is the basis of any analytics platform, and understanding how it works is extremely important in the era of online privacy regulations. There is a need for balance between complying with privacy regulations and growing marketing demands for good data.
Trackers can collect data in different ways without violating privacy laws. For example, they can collect anonymous data valid for analytics if the consent for private information is not given. In the table below, you can see different privacy-friendly methods trackers can use to collect data.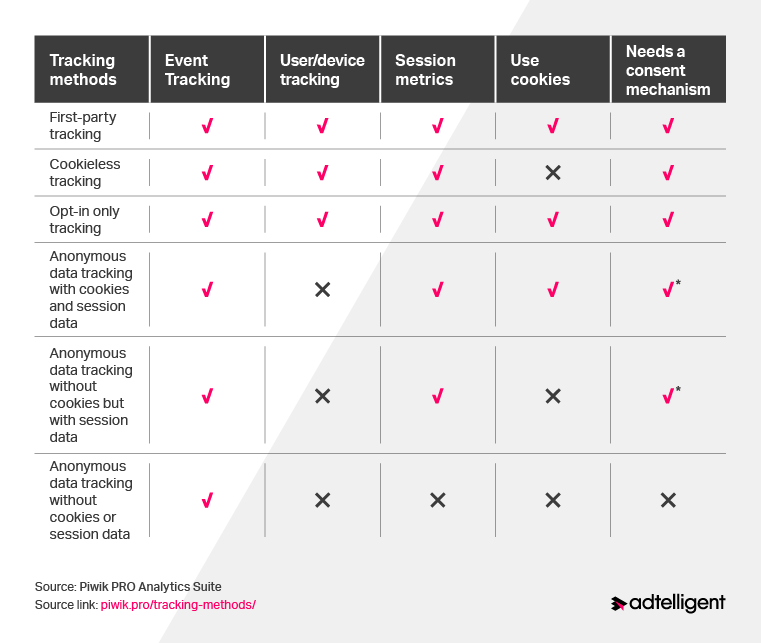 Navigating various tracking methods can be daunting, and CMP is especially relevant in dealing with this task.
How to be compliant?
Privacy has become a must for any online business since 2018. Its importance will continue to grow exponentially, as will the number of privacy laws and regulations. Therefore, it is essential to have tools to help navigate and adhere to all of the data privacy demands.
Adtelligent now offers a holistic solution to all of these problems – its own Consent Management Platform. Our CMP makes navigating the turbulent waters of data privacy efficient and straightforward. You can learn more about Adtelligent's CMP and ask us any questions on our website.
FAQ
What is a consent management platform?
A consent management platform or CMP offers a set of tools that help automate and organize the processing, collecting, and management of private information, while also keeping up with data privacy laws.
How does consent management platform work?
CMP starts with a pop-up message that appears on the user's screen and asks for the user's consent to collect and process certain information. You can find out more about its mechanisms here.
What is GDPR?
The General Data Protection Regulation (GDPR) is the most adamant privacy law. It was passed by the EU in 2018 and applied to all organizations that operate in the EU or collect user data from EU people.
Tags