In 2020 the world as we had known it changed due to the COVID-19 global pandemic. As a result, businesses worldwide looked for ways to adjust to the new, constantly changing environment.
At first, entrepreneurs took a careful stance and cut expenses where possible. Unfortunately, this tendency affected the digital advertising market as well. However, as the pandemic progressed, more and more people realized the need for an appropriate development strategy instead of temporarily cutting corners.
In 2021, we saw a 25.5% increase in digital advertising spending compared to the drop in 2020 and even the pre-pandemic figures. According to the forecast, these numbers are expected to grow in the upcoming years.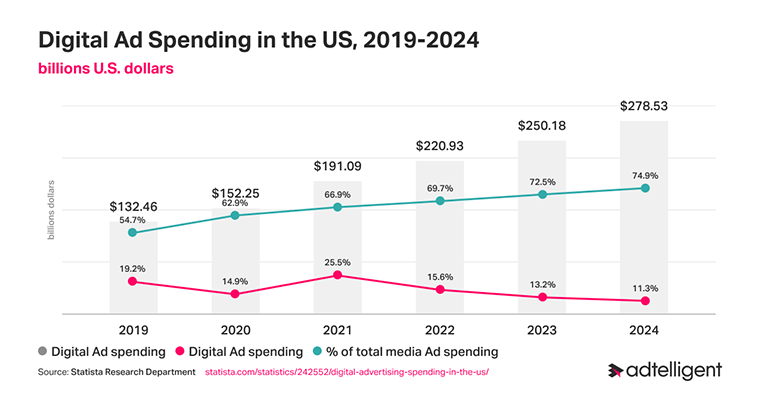 The following article will share five ways publishers can enrich their monetization strategies, streamline operations, and increase profits.
1. Try programmatic advertising
Programmatic advertising is on the rise despite the ongoing health crisis, and maybe even owing its success to it.
According to recent evaluations, programmatic ad spending is expected to reach around 95 billion US dollars in 2022, with a rapid yearly increase since the pandemic had started.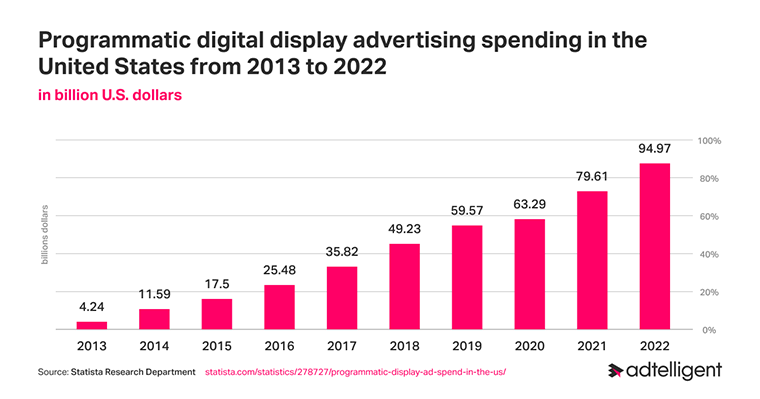 There are numerous reasons for such growth; many of them are connected with the current reality we live in, transformed by the pandemic. As more and more people worldwide spend significant amounts of time online, businesses realize the need to restructure and adjust to new circumstances.
Taking this into consideration, the potential for personalization and customizable advertising experience that can build solid relationships between brands and customers, as well as raising brand awareness, creative ad formats, and no additional human resources needed to integrate programmatic technology – no wonder that it is steadily gaining popularity both among publishers and advertisers.
Leveraging all benefits of header bidding and yield optimization tools allow publishers to open bidding on their ad inventory to multiple advertisers. At the same time, Private Marketplace (PMP) deals can help get the best value for their ad slots.
Programmatic can provide a safe and transparent ad ecosystem that serves as another point of attraction for publisher's clients. With programmatic omnichannel platforms that can deliver and optimize cross-device campaigns in real-time with impeccable targeting capabilities that help reach vital audiences, advertisers are naturally drawn to these potential programmatic benefits.
To fully take advantage of programmatic advertising in 2022, pay attention to these aspects:
2. Employ multiple ad formats, sizes and test new formats
Basic things needed for better yield optimization is a good strategy. In order to build one, publishers must take into account many factors that affect ad budget and ad deployment. Here are some things that can assist with this task:
Different website layouts can boost user engagement, which is a vital element of any yield optimization strategy.
Another important aspect is to keep your ads updated and fresh. Try using thematic ads for upcoming holidays etc.
Do not forget to comply with Google AdSense requirements and use proper ad sizes. You can get more information on the top-performing ad sizes here. It is especially relevant considering recent Google Core Web Vital metrics that can affect a page's visibility and rankings.
Get to know metrics that can help in the evaluation of the ad's performance and effectiveness:

CPC – cost per click
CPM – cost per mille/thousand
CTR – click-through-rate
RPM – revenue per thousand impressions

Ad formats – using different types can bring maximum profit and work best for your website:

Experiment with textual ads and diversify your color patterns to see what can attract the best yield.
Outstream video ads. Video ads are on the rise and attract numerous viewers. They also offer a great creative output for advertisers, so it is a sure way to optimize yields. Video ads have quite high click-to-rate (CTR) results with greater viewer engagement. As a result of all the above-mentioned benefits, video ad spending in the US is expected to reach $78.5 billion by 2023, so the demand is high. Publishers can replace video ads that emerge before the video content and mid-roll video with in-stream and in-read ads.
Interstitial ads. Because this type of ad is full-page and takes up the whole screen, they have the highest effective cost per thousand impressions (eCPM) rates. It is quite invasive as well, so consider putting it at places with more natural transition, like between content, for instance. Take into consideration user experience when experimenting with interstitial ads.
Podcast advertising. Studies suggest that by 2023 the number of podcast listeners in the US will surpass 160 million, with an yearly increase of around 20 million listeners. Especially during the pandemic, podcasts proved to be a wildly popular form of pastime, thus presenting a lucrative opportunity for monetization. Podcast advertising advanced partially due to programmatic technologies. They go well together as podcasts have strong content with engaging storytelling, a low financial stronghold to entry, and an already existing audience base, which makes it into a perfect revenue growth channel for publishers.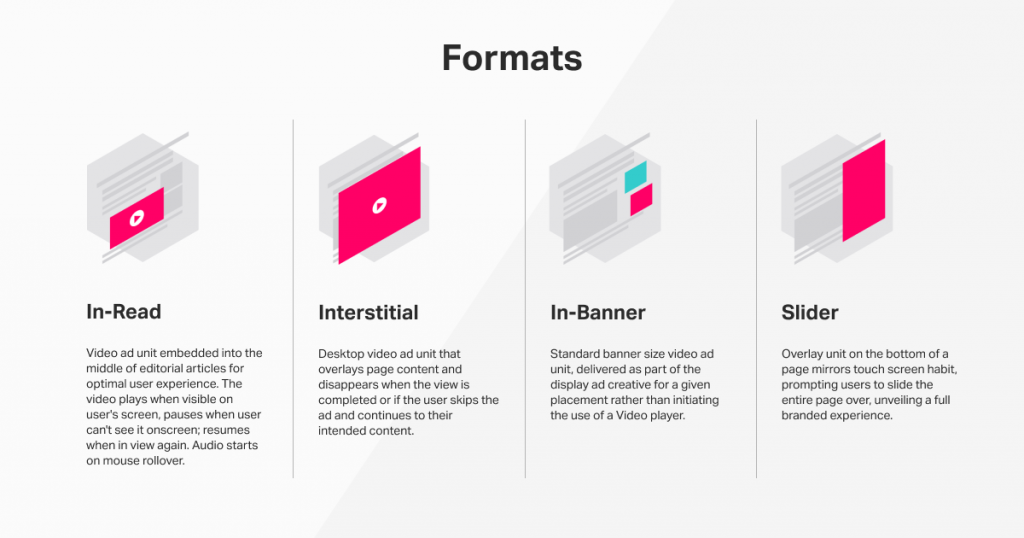 3. Optimize Website for Mobile
Pandemic has affected digital advertising in numerous ways. Understandably, more and more people are spending time on their devices browsing the Internet during the lockdowns and other quarantine restrictions. Under such circumstances, it is no wonder that mobile usage is on the rise worldwide. Taking into account this data, it is only logical that adapting your website to mobile users can bring additional benefits and revenues. It is essential to optimize: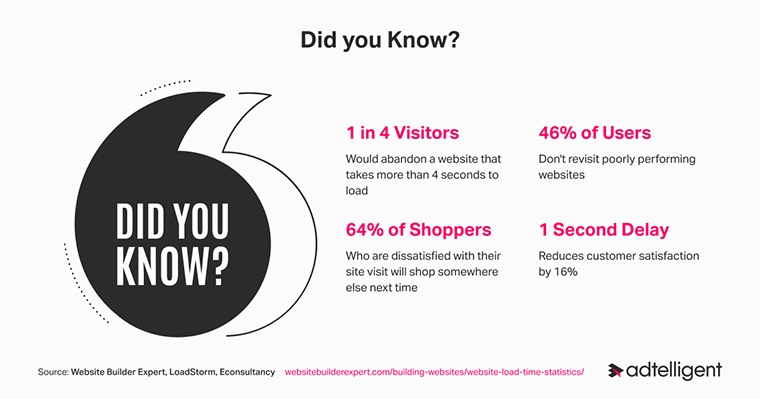 Responsiveness. Make sure your web source is responsive so it can adjust to any screen size without any content-related losses.
Load speed. Try to avoid using Flash, for instance, because it can stagnate the load time of a page. It is also a good idea to first test your website on various devices and see how it performs. You can also use a dedicated tool provided by Google to test the speed on mobile devices.
Website buttons. They should be optimized for mobile usage and work on smaller screens.
AMP. Enable Accelerated Mobile Pages (AMP) to ensure peak performance of your website. Since its arrival in 2015, this method for creating mobile-friendly web pages by Google has spread significantly with many sources employing AMP. It mainly gets rid of unnecessary media files and complicated layouts and helps make the page more mobile-friendly.
User interface. Make your site user-friendly and remove text-blocking ads. Consider restricting the usage of pop-ups as well, or think about redesigning them. Having a smaller screen means that pop-up ads are much more disruptive on smart devices than PCs, so Google has a certain set of rules and penalties for pop-up ads. Make sure to adhere to these rules in order to avoid any further issues.
Suitable web host. It is choosing the reliable web host plan that will satisfy your needs in terms of speed and resources. Otherwise, the transfer to a mobile can be bumpy.
4. Audience insights
Digital publishers have at their disposal a lot of valuable information in the form of first-party data that can be leveraged to optimize yield and bring even more value. Organizing and analyzing this intel can be very beneficial for publishers, especially in light of the various changes related to the third-party cookies deprecation. The more detailed guide to the first-party data management you can find in our blog, but the main points to pay attention to are:
Get to know your audience. Review your web source's demographics and location in order to bring them more relevant content. 
Analyze audience engagement metrics to better grasp their behavioral patterns. It makes it easier to deliver better content that is more pertinent to specific viewers and thus drives up the engagement rates. 
Employ market segmentation to produce more precisely targeted messages to promote relationships building with an audience and increase outreach. 
Measure audience development. Though this parameter is particularly hard to evaluate, it is still possible by employing one or several criteria. Loyalty is hard to measure, but by reviewing repeated visits or time spent on the page, we can get a glimpse of this metric. 
Keep track of new users. The best strategy is to compare the number of new users with returning users and daily, weekly, or monthly active users. It can show you in which particular area your strategies work best – getting new visitors, keeping the old ones, or building long-term relationships with returning viewers.
Use digital tools to assist you with analyzing audience insight. There are numerous tools available online that can help you with a variety of audience-related tasks to build a significant audience development strategy. 
By properly taking advantage of audience insights, publishers are able to understand their audience's needs and inclinations better. This knowledge, in turn, can assist with the creation of the most relevant and interesting content that will help increase audience engagement and boost brand loyalty. Programmatic publishers have numerous real-time metrics that they can take advantage of and adjust their marketing strategy accordingly in order to make the relationships with audiences flourish. Of course, all of these steps will also positively affect yield optimization efforts.
5. Streamline Ad Operations
Advertising Operations play a key role in the success and profitability of any digital publisher. Ad Operations is a term that encompasses such processes as ad management, website management, yield, and performance optimization, all of which aim to attain the maximum potential ad revenue from online advertising.
Considering the constantly evolving world of digital advertising, the persistent need for adjustments and changes can be daunting for some publishers. Outsourcing advertising operations (ad ops) can allow publishers to streamline vital processes to the parties that are always up-to-date on all recent changes and will be able to experiment with operations to present the best results. Streamlining ad ops bring such benefits:
Minimal money infusions and great ROI
It all comes down to numbers as it is cheaper to outsource ad ops, and in the end, it brings better ROI thanks to the extensive expertise and experience in boosting publisher's revenues.
Better productivity and reduced workload
Streamlining ad operations saves time for publishers as it takes over a huge chunk of essential tasks that takes up a lot of time daily, thus boosting the efficiency levels and opening up publishers for new opportunities.
Professional team's help with expertise and knowledge
Skilled programmatic ads experts that usually deal with ad operations have practical experience with many different clients and have all of the latest tools at their disposal to accommodate changing industry trends and specific requirements of every publisher. Nothing beats first-hand knowledge in the field.
Performance monitoring and yield optimization
Outsourcing can usually ensure continuous monitoring and coverage and persistent inventory optimization, which is very difficult to organize while dealing with ad ops on your own.
High levels of control and trackability
Timely and detailed reports with useful intel aim to improve and transform the publisher's marketing strategy. Also, deciding whether to implement specific solutions and approaches is possible with streamlining ad ops.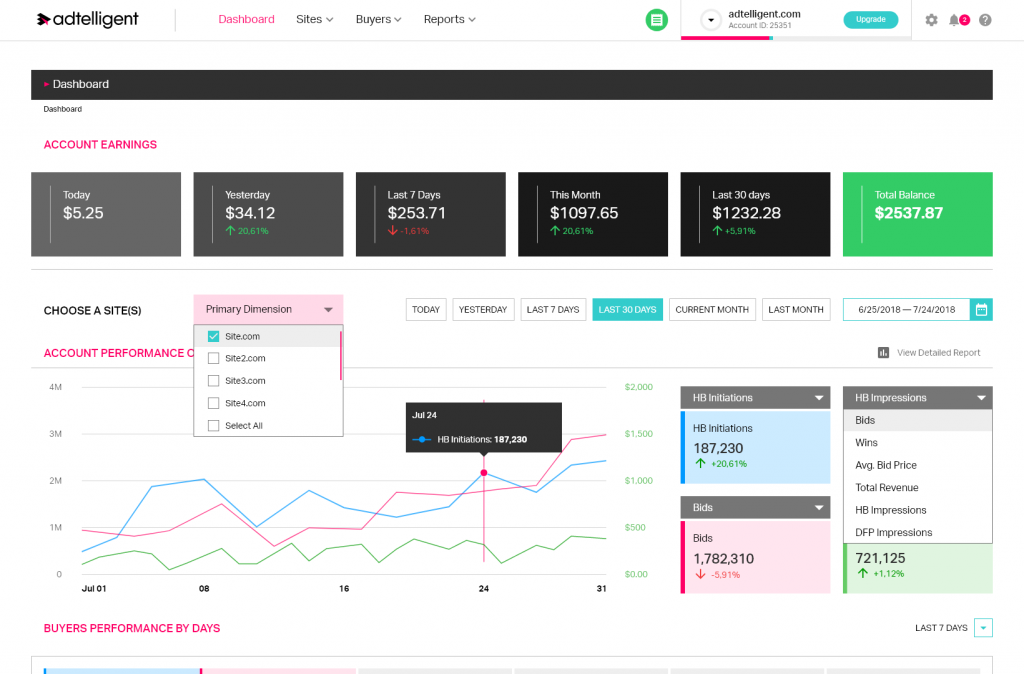 What's Next?
It is very difficult to predict what's coming with the COVID-19 pandemic challenging situation. Publishers have been torn apart between keeping up with the latest trends and tendencies and complying with all the novel changes and rules coming their way. However, we can tell with certainty that the digital ad market is growing exponentially worldwide and is expected to grow in the future. The trick is to keep up and optimize to stay ahead of the curve and live up to one's maximum potential as a publisher.
Tags