Highlights:
Efficient Techniques to Boost Publishers Digital Revenue
Publishers want to get the most out of the user session to gain revenue from the traffic. Many techniques are used to get higher value out of ad impressions on the website or in the app. We prepared the main approaches that publishers will be sticking to this year. For your help, we described what each publisher monetization mechanic means and how it works.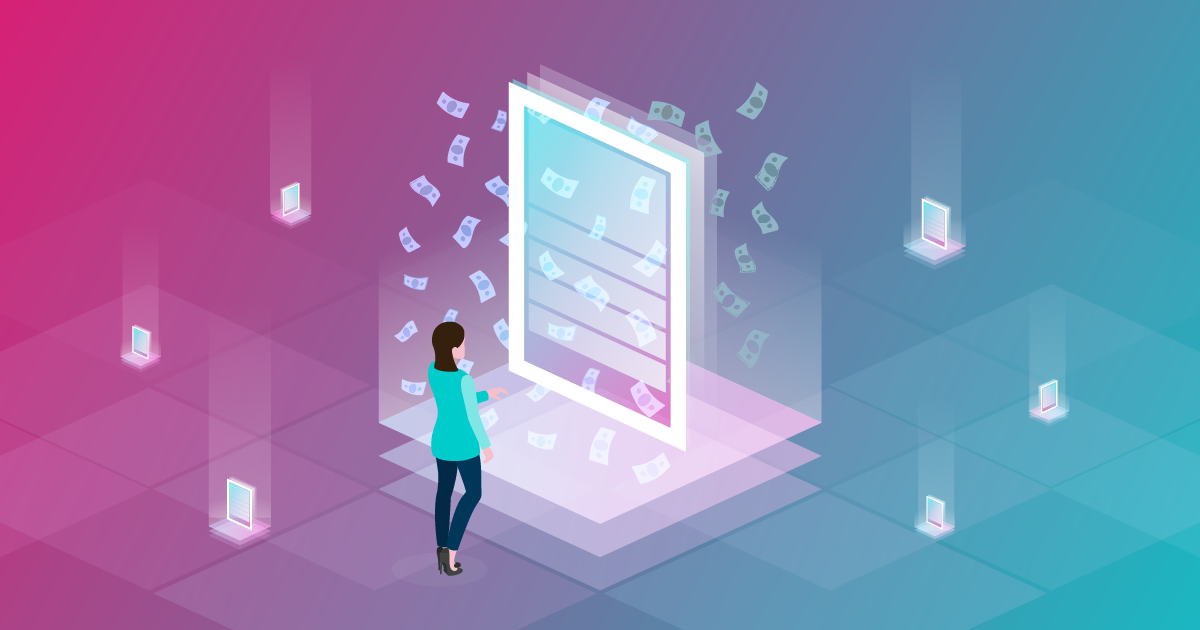 Ad refresh
To reach more digital content revenue, publishers come to such a method as ad refreshing. It is a technique that allows a user to view a few different advertisements in one ad slot within the one user browsing session. Simply put, while the user is on the page, the ads are changing within a specific ad space. Ad refresh can be initiated based on different triggers like time, user actions, and other specific events related to the user interaction with the page.
The industry didn't accept this practice initially because there were no standards, predefined logic, and technology systems that would allow implementing this logic without harming advertisement performance. As of today, thousands of premium publishers are doing ad refreshing on their sites. Although, not every ad network offers this method. For instance, Google AdX allows users to set a customized ad refresh under certain conditions as well as Rubicon and OpenX.
Ad refresh can bring to publishers more revenue per user session but only for specific use cases. It means that if you're refreshing the ads ignoring such metrics as viewability and CTR then you can significantly decrease ad CPM as well as general amount of ads willing to bid for the inventory with blind refresh logic. Refreshing ads by following preset conditions created by your ad network can guarantee you covering the ad slot with a creative thus boosting more revenue.
While some ad networks allow many types of triggers, they don't include viewability. It can be a problem when a page may keep refreshing ad slots which are indeed beyond the user's viewport. This can decrease the buying of publisher inventory as advertisers pay for a good viewability. Fortunately, many ad tech vendors offer smart solutions on how to consider viewability as well. At Adtelligent, we developed sophisticated algorithms that allow us to show a new ad on the same ad slot including an average index of banner clickthrough criteria and taking into account whether the ad is currently in a viewable zone (or would be in it shortly) and TOS (Time on Site) forecast. In such way, publishers can gain the advantage of applying ad refreshing while meeting advertiser KPI's.
Ads.txt and sellers.json
Ads.txt and sellers.json are both initiates proposed by IAB Tech Lab for making supply path transparent to advertisers and therefore preventing ad fraud. To understand how these methods can help you boost digital revenue, let's briefly recap their meanings and purpose.
Ads.txt is a file with publisher authorized digital sellers. It's a method implemented to secure a programmatic advertising ecosystem from domain spoofing and fraudulent ad trading. Applying ads.txt publishers can publicly state companies they authorized to sell directly or resell their digital inventory. This way, publishers build transparent partnerships in the supply chain, by giving advertisers more confidence in what inventory they purchase. Buyers with a high level of trust are willing to pay more for the impressions, and they likely stay for a long time. Publishers, from their side, can gain more revenue as they won't lose their traffic because of fraudulent activity.
Sellers.json is a file intended to provide buyers with full supply path information, validating the origin of a bid request with a clear understanding of relationships between a site and ad tech provider being a direct seller or intermediary. It's aimed to increase the trust of the programmatic buying by helping buyers to discover all entities that participate in the bid request. The file is hosted at the root of the domain and lists all mediators who bid for the publisher's impressions. The mechanism solves one of the acute problems related to transparency in programmatic.
What does it mean for publishers and how they can reap benefits from these initiates? Both mechanics are focused on cleaning the programmatic ecosystem from ad fraud. While publishers gain revenue by providing trustworthy inventory, advertisers get clean traffic from validated sources. It drives profit growth for all participants of the ecosystem.
Outstream ad formats
Video content is the king so far. It brings more revenues to the publishers, and it is more relevant to the advertisers as video ads receive a 7.5X higher CTR than banners. More and more marketers want to have video ad formats in their campaigns. According to the Content Marketing Institute's latest report, 71% of B2B and 66% of B2C marketers use video marketing. But in-stream ad formats are quite expensive for advertisers. Besides, not all publishers could rely on providing their auditories with video content. And for users, pre-roll and mid-roll ads can be irritating from time to time. So alternative option is the outstream video advertisements that can even double publishers' digital revenue and expand advertisers' campaigns.
Outstream format is a type of native advertisement that represents a large-format video player coming up in the middle of the page content. Such video ad starts playing automatically in any place anytime. It's more lucrative compared to a pre-roll and mid-roll ad or banner. Outstream is at the peak of its popularity which is explained by the advantages it brings.
Major Benefits of the Outstream Video Ad Formats
Publishers who do not have video players on their websites can offer outstream ad units. It is also can be interesting for advertisers who want to put ads on the media resource where there is no video content.
Outstream ad units are easy to set up in comparison to in-stream. The format is compatible with VAST and VPAID, with Prebid and OpenRTB. Mobile optimization is also smoother.
Outstream ad formats look more native and do not interrupt getting content on the page. It is more engaging as with the proper setup the video starts playing while the ad is 100% in-view.
Such special ad units bring more digital revenue to publishers and help them grow their content monetization. For advertisers, it means 2.5% higher CTR and 100% viewability.
Users get a seamless experience while watching the content. They can skip the video ad, or simply continue to scroll down the page. Users are not irritated because the video is muted by default. Moreover, the outstream video ad is more captivating than a banner, for instance.
If you want to test how each outstream format works, you can visit the demo page to run in-read, interstitial, in-banner formats, and slider.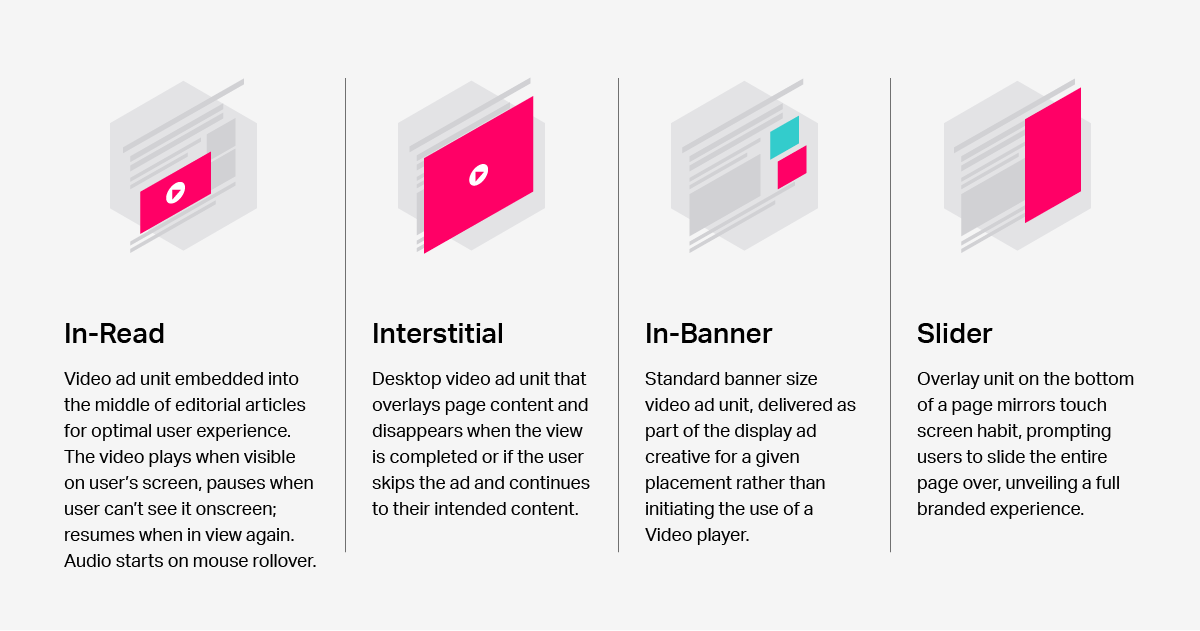 Consent Management Platform
The latest GDPR and CCPA initiatives established to provide users with their data protection gave rise to such relatively new things as the consent management platforms (CMP). It is a technological platform that is developed for publishers for receiving, processing and storing users' consent to allow or disallow advertisers tracking, targeting and sharing their online data. Publishers have already known about the importance of these laws' compliance, but let us explain why CMP matters for publishers' monetization.
GDPR applies to any personal data processing when the information is related to somebody from EU countries, and when the data managing takes place in EU regions. GDPR defines all activities involving users' data as "processing" thus the regulation strictly requires consent from the person for any operations with the information. CMP allows users visiting a website to accept or not accept cookies that collect personal information to track browsing behavior. By accepting cookies, the publisher gets consent to serve targeted ads based on the user data. Otherwise, the publisher will be able to serve the ads based on contextual data of the page only. The IAB Europe mentioned that any businesses that are defined as a data controller (the owners of the websites with first-party data) need to plug in CMP to meet a new standard for gathering and operating personal data.
CCPA refers to any business that relates to California consumers. CCPA law defines "businesses" as entities who have a revenue of $25 million or more per year, who process, buy, or sell data relating to more than 50,000 individuals, households or devices in one year, or who makes at least half of its revenue from selling personal information. CCPA gives consumers based in California or another US state a right to know how their data is collected and processed. CMP plays an important role for publishers by allowing their users of the website to make an opt-out of selling their data. As per CCPA regulation, publishers must have an opt-out page with the words "do not sell my personal information" so consumers may disclose their information.
The number of publishers who distribute content to the EU and US consumers and adopt the consent management platform is getting bigger. Penalties for non-compliance are extremely big. The GDPR authorities can issue a maximum penalty of €40 million. The CCPA penalties could be $7,500 per person affected. Publishers understand that by breaking the law, they indeed lose their potential advertisers and digital ad revenue consequently.
The adoption of consent management platforms is growing rapidly. As per Adzerk latest report, at the beginning of this year, US publishers implemented platforms on 13.8% more compared to Q4 2019, while UK publishers on 7.1% more.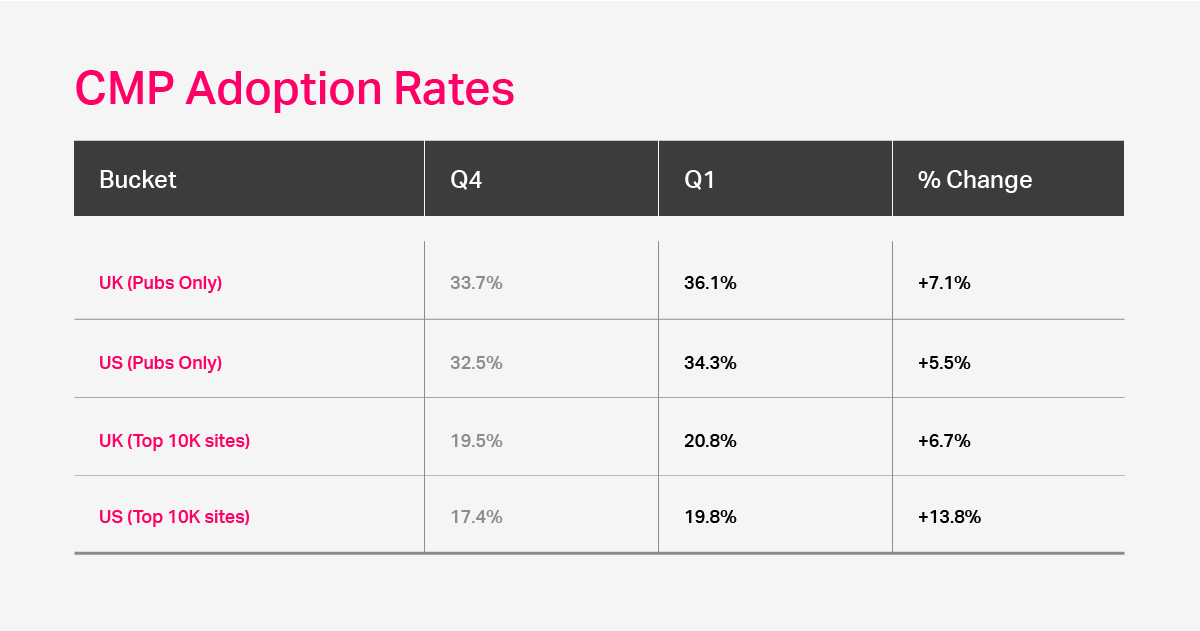 This looks at the Top 10K sites in each geo bucket, broken down by all sites and just sites within that 10K that show programmatic ads. To qualify, sites must be using an IAB-registered CMP, a 3rd-party consent tool, or an in-house solution built using AppNexus, Axel Springer, or the IAB 'vendor list' file. *Data extracted from Adzerk
And here is the picture of the substantial increase of CMP adoption over the years: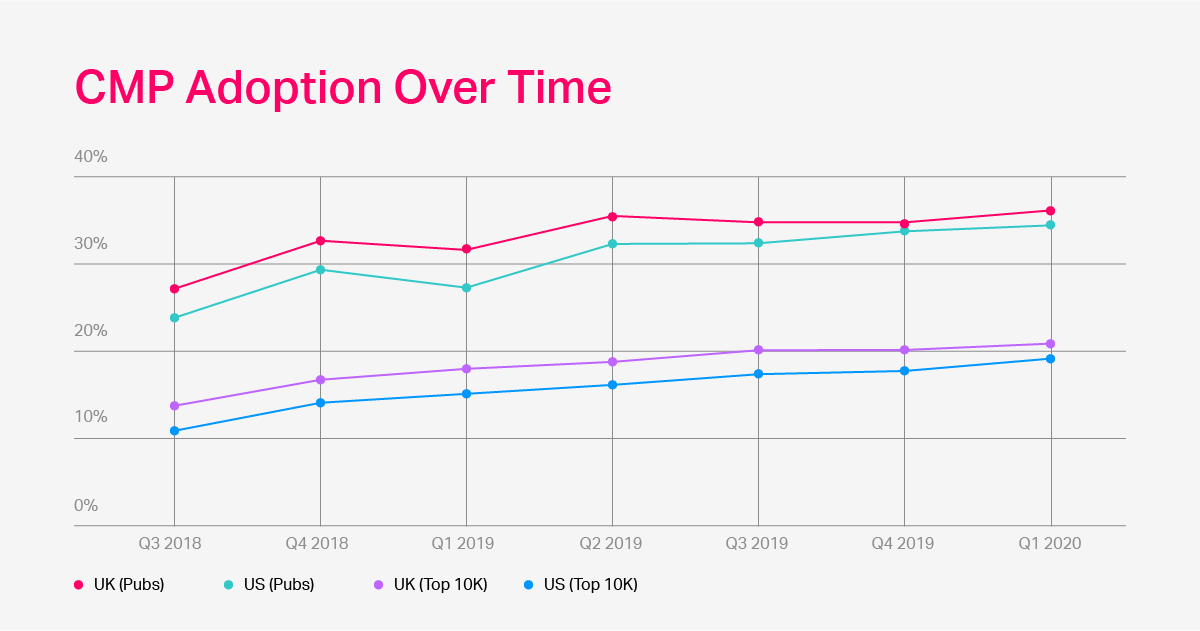 This follows CMP adoption since Q3 2018 *Data extracted from Adzerk
Publishers who set up the consent management platform have a clear goal. By following GDPR and CCPA they will attract advertisers stating them about their transparent approach to the consumers' rights. Avoiding any penalties, publishers can gain digital revenue serving targeting ads based on information that was legitimately gathered due to the consent management platform.
Bid-floor optimization
Bid-floor optimization is a mechanic that publishers use to set the appropriate floor price for the auction and gain maximum revenue from the impressions selling. This technique appeared as a solution in response to the supply-path optimization (SPO) from the media buying side. Demand-side platforms develop algorithms to select the most relevant bid to win in the auction or to exclude SSPs with the first-price auction only. The reason why DSPs started applying supply-path optimization is explained by the cost-effective approach from the traffic buying side.
First, let's recall the auction mechanics, or rather, first-price auction and second-price auction. In the first-price auction, the winning bidder pays the highest bid that was initially offered. In the second-price auction, the winner with the highest bid offered pays the second highest bid plus one cent. For the auctions, publishers can set up a floor price to optimize digital ad income. They can set up a hard floor and a soft price floor which is applicable in the second-price auction. A hard price floor is the lowest price for the impressions that publishers agree to accept, and the bids below that price are discarded. A soft floor is a bid optimization technique used specifically to determine a minimal price for the SSP's offering second-price auctions. The idea of a soft price is implemented to pick up the highest bids without loss of the lower bid opportunities demonstrating more flexibility around the inventory value.
The flooring strategy should be optimal to keep yield balancing. In this matter, to increase digital revenue in a header-bidding setup publishers need to establish the floor prices using algorithms configured specifically for this purpose to resist SPO from the buying side and to adapt to the market seasonality and new partners.
Google Ad Exchange has recently announced that it will move to the first-price auction only. Though at least 3 reasons remain for publishers to keep flooring. The first reason is that the second-price auction is still applied in many SSPs and ad exchanges. The second one is that flooring helps publishers determine the value of their inventory. And the third reason is that the floor price defends from a cost-effective approach of the media buying side which can eventually reduce publishers' revenue.
Final words
Sometimes gaining more money means not leaving them on the table. The programmatic ecosystem keeps getting more sophisticated and not always convenient for every participant of the supply chain. Though many mechanics and technologies appear as a solution on how to gain a foothold in the market and to make the most of the digital activity.
Tags