Last Update 9/28/2022
What is sellers.json?
Sellers.json, together with the SupplyChain Object, is the latest specification released by IAB Tech Lab in April 2019. It helps advertisers check on the stage of the bid request and whether the specific reseller has permission for the publisher's inventory distribution within the advertising chain.
Senior Vice President and General Manager in IAB Tech Lab Dennis Buchheim said, "Growth in the global digital advertising ecosystem requires trust, and Sellers.json and the SupplyChain object provide essential visibility into the supply chain, enabling buyers to curate media sources."
How does sellers.json & Supply Chain Object work?
Sellers.json has similar functions as ads.txt. However, a JSON format is applicable instead of .txt (The JSON format is more manageable for humans to read and write). It is also placed in the root of the supply-side platform (SSP) or Ad Exchange domain, and it is publicly available. The mechanism allows listing authorized ad tech vendors in partnership with an SSP.
SupplyChain Object is the second specification working along with sellers.json. This mechanism runs on the demand-side platform and helps buyers to watch so-called "nodes," which determine every active reseller during the bid request. All vendors are automatically checked with parties' IDs listed in ads.txt placed on the publisher's side. Hence, the buyer/ advertiser may verify if vendors are in a partnership with the original seller.
Sellers.json and SupplyChain object are compatible with the Open Real-Time Bidding versions 2.5 and 3.0. Ad tech vendors are responsible for hosting the files.
Talking about sellers.json separately, we can note that it has limitations and requires constant maintenance. If an entry exists on sellers.json, it does not automatically mean that the inventory is available to buyers. Moreover, unlike the ads.txt model, sellers.json files are only necessary for mediators when there are many files. Those who do not have access to SupplyChain Objects tend to think that if an entry can be found on the sellers.json file, it represents live inventory, which is not always valid.
Sellers.json example
A publisher works with a supply-side platform to sell his ad inventory. When the SSP sends an offer to the demand-side platform, ads.txt will display the following information:
Advertising system name
Sellers account ID
Domain
Sellers.json takes it a step further and gives DSPs the following file with detailed information (sample JSON file in the screen below).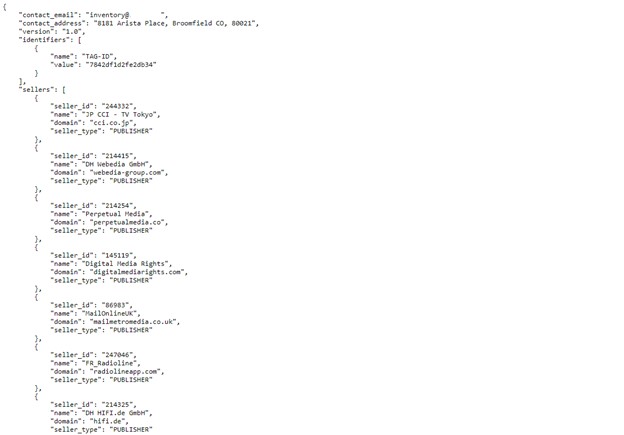 The platform can confirm the original publisher before initiating the bid request.
To see if the vendor works with Supply Chain, you can take the domain of any platform that uses sellers.json and append "/sellers.json" to the end web address to access the file.
How is sellers.json implemented?
Advertising platforms post their sellers.json file on their root domain to make it easily accessible to you, as we just described. They also make it crawlable via HTTP and HTTPS protocols, while the latter is preferred for security.
The parent object of the sellers.json file consists of five main properties:
Sellers
Identifiers that are used to communicate common values such as business identifiers, certification identifiers, or any identifier that system needs to use to better interact with the seller
Email address for contacting the advertising system
The physical address of the advertising system
Specification version

The "sellers" attribute contains the identity of any parties that are paid to sell inventory, while "identifiers" are common values to organize them. The identification of the selling legal entity that is paid for ad inventory sold from the seller_id. А seller_id cannot represent many entities at once. Every seller_id should lead to only the entity that is paid for traffic dealing with that particular seller_id. It is acceptable for a selling entity to have numerous seller_ids in an advertising system.
To make seller information transparent, you can follow the next steps: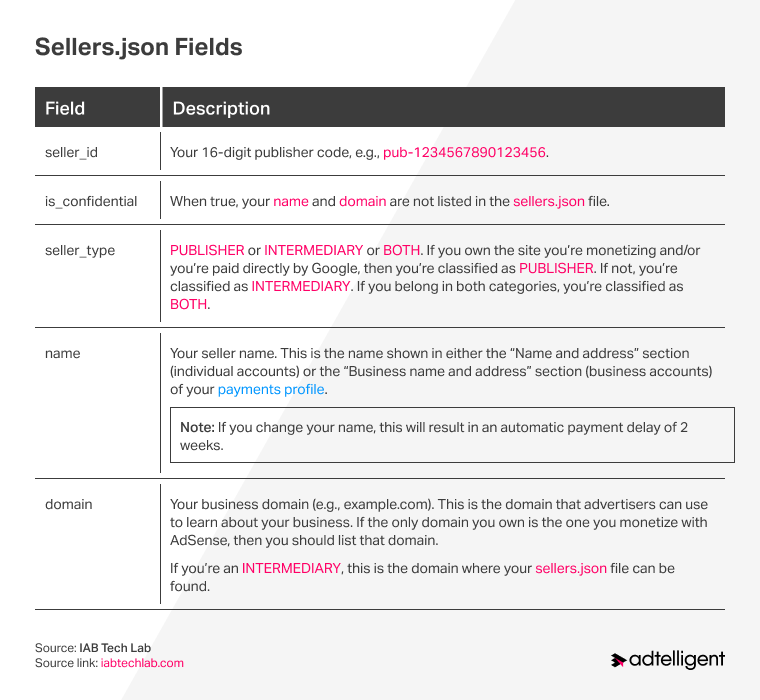 Don't worry if this seems a bit out of reach. For publishers, all steps are taken care of when you work with a platform that implements sellers.json in their backend.
Benefits of SupplyChain objects data
SupplyChain object reporting is required to capture the supply partners' IDs in bid requests and establish visibility into the path from the inventory source to the buyer. It happens after they combine ads.txt and sellers.json data to a specific bid request.
When implemented correctly, SupplyChain Object data can provide a more thorough understanding of the programmatic transactions. For example, a user can check sellers.json and ads.txt files to find out and get validation of an inventory source. In addition, SupplyChain Object can reveal that the bidding request is passing through many resellers. Therefore, when together with ads.txt and sellers.json, ad exchanges or DSPs can easily ensure the validity of the sellers in the supply path, and there is a possibility for double confirmation of authorized sellers, a chance to detect an incomplete chain, on top of the direct inventory that SupplyChain Object users also get. Ultimately, this is a mutually beneficial solution for identifying and eliminating the poor-quality supply that works for all parties involved in the supply chain and improving bid transparency.
Tools for verifying seller and buyer data make the whole supply chain safer and more transparent. One is https://well-known.dev/, a free and handy website that can significantly help this task.
Well-known resources are the files hosted by websites in the "well-known" locations. These resources provide different data on the website and its services to developers and other parties involved. The formats and places are often described in specifications, but some function based on mutual consensus. They can be found in the /.well-known/ path.
How to find a system that currently works with the web source?
If you go to the website mentioned above and tap on the "Ad tech" section, you can add the desired web source for checking (excluding HTTPS://). If the web source has the sellers.json and ads.txt files, then the sellers that work with the particular source can be identified. You will also get data on Sellers in ads.txt and app-ads.txt files and information about the status and last update.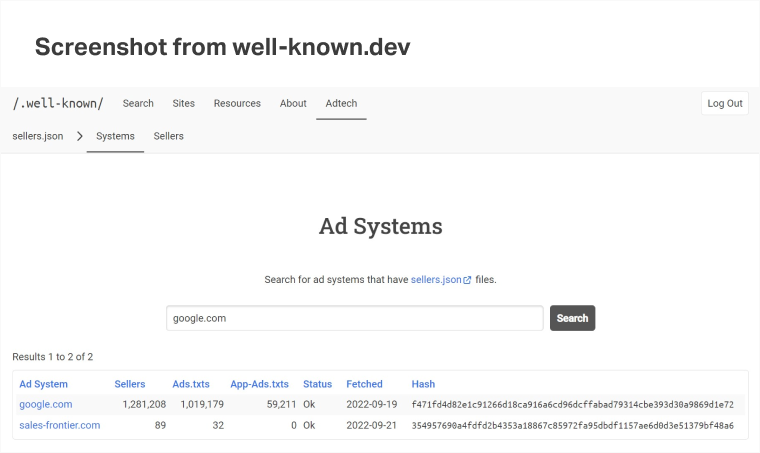 How to find websites that the particular system has working connections with?
The next step would be to choose the sellers that work with the source you are checking and find out with whom it works. In this case, you should go to the "Ad Sellers" section and go through a similar process to confirm that the supply chain is mutually working and see with whom the particular seller works.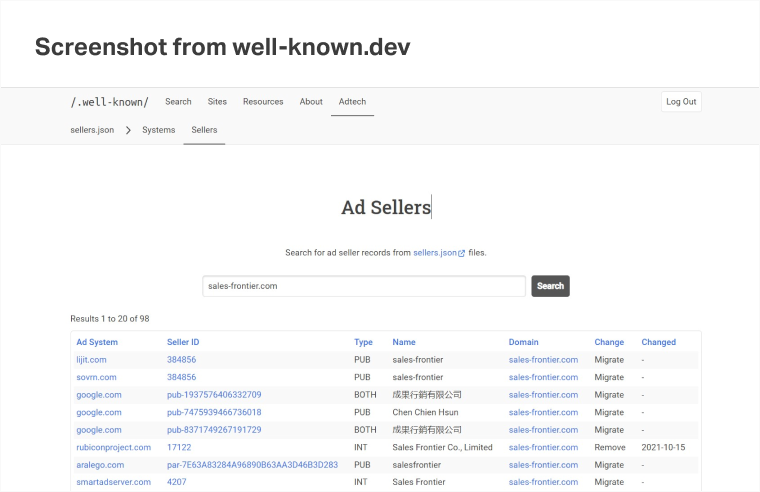 This tool helps to build a safe and more transparent advertising ecosystem, as well as to quickly check the validity of the systems that cooperate with the advertising players.
Who benefits from this solution?
It is a win-win initiative. Both publishers and advertisers benefit from the verification mechanism of all intermediary sellers. The industry gives advertisers and agencies confidence in what they buy and from whom exactly. Buyers having a high level of trust may likely increase their spending on the advertisement. This is how sellers.json with supply-chain object works schematically: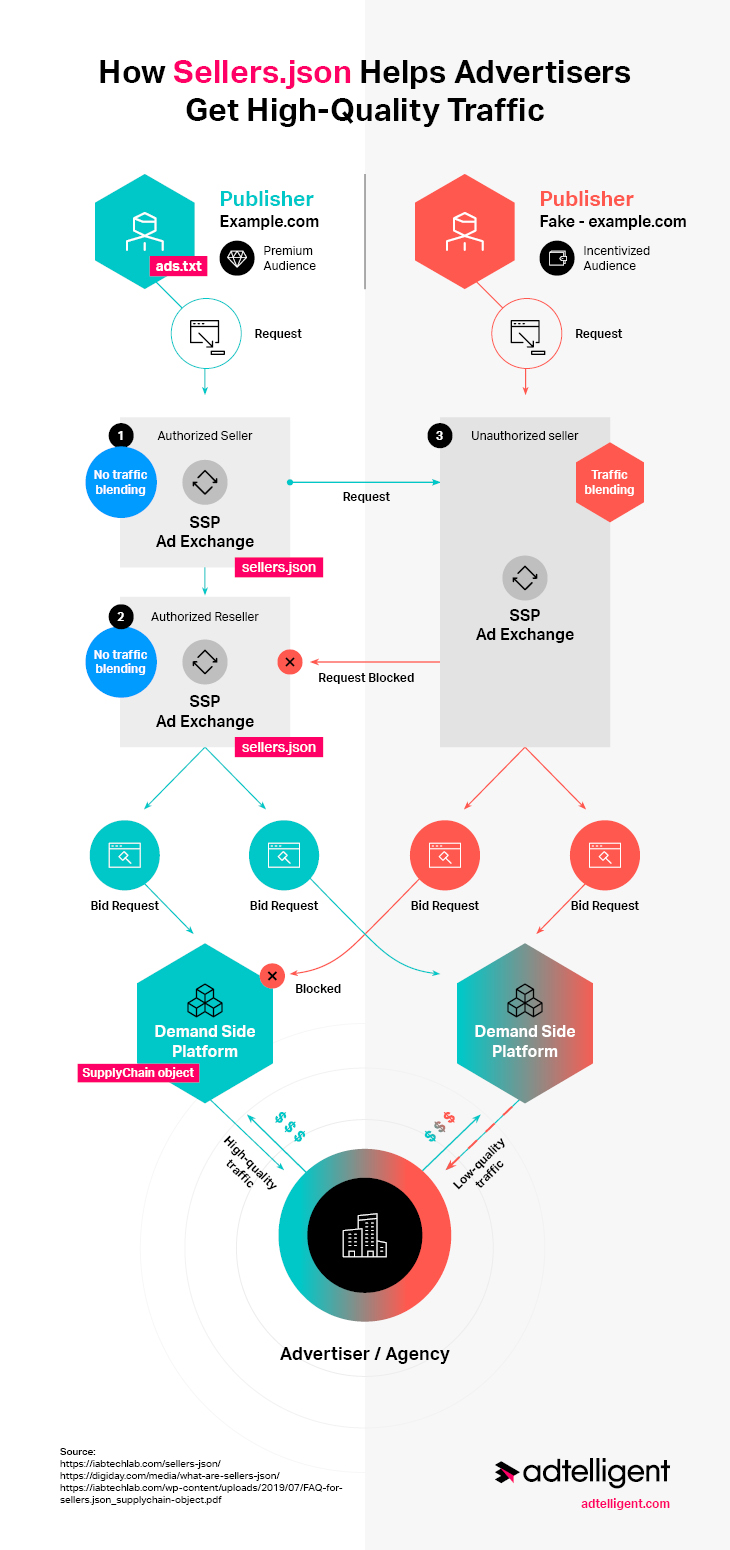 The brand safety issue is essential for every player in the supply chain. But unfortunately, ad fraud remains a significant and acute problem for web, mobile web / in-app, and OTT / CTV advertising. According to Juniper Research, advertisers can lose 20% more ad spending because of fraudulent activities. In 2018 $35 billion was lost to advertising fraud, and it's expected to be $100 billion of ad expenses globally by the end of 2023. According to IAB Tech Lab, sellers.json and SupplyChain Object working with ads.txt and app-ads.txt can clean up the digital ad ecosystem by blocking out fraudsters.
The other side of the coin is that the implementation of sellers.json strengthens the position of big publishers and sets highly competitive conditions for publishers with a small audience. Also, any vendor can mark an account confidential using an option within sellers.json. If they select it, this could lead to transparency blocking. But the problem is potential. Otherwise, this solution would not work at all.
Summarizing
Ads.txt and app-ads.txt initiatives allow checking the publisher's direct sellers only. But they do not verify intermediary sellers on the SSP or Ad Exchange side. So how can the advertisers rest assured that they purchase the publisher's inventory from the authorized reseller? And how can publishers be confident that their traffic would not fall into fraudsters' hands?
Sellers.json and SupplyChain object solve this issue and verify all vendors who participate in selling a bid request. Adtelligent Supply Side Platform, Header Bidding Platform, and Demand Side Platform support the IAB Tech Lab's implementations and facilitate cost-effective support to your business by providing safe automatization processes.
Tags