Coronavirus disease is spreading worldwide
According to the official source, there are more than 1,270,000 total cases globally. Italy, The United States, Germany, and Spain have been suffering most of all outside of China, which is experiencing a slowdown of the new patients with coronavirus symptoms.
COVID-19 is a new type of coronavirus, and no one knows about it. We won't make predictions on how many people will be infected or when the virus will be inactive because it changes every day. To not exploit it, we recommend monitoring John Hopkins University COVID-19 dashboard and other official sources.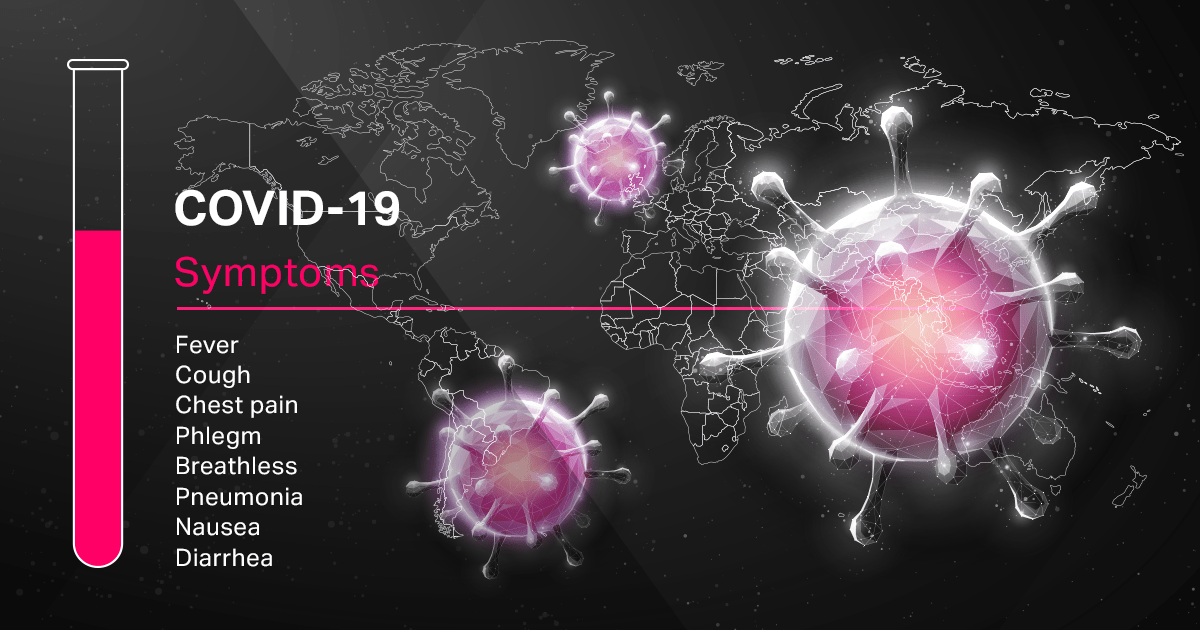 Businesses are under the coronavirus crisis
The world's economy is undergoing a recession due to the struggle against the virus. Many countries closed borders and imposed a lockdown. Factories, shops, restaurants, as well as other medium and large businesses shut down. It's expected that the coronavirus COVID-19 and economic fallout will cost the global economy $2.7 trillion.
There is a prediction that Chinese businesses will be suffering from a slump for over a year. In February, retail sales in China fell by 20.5%, and industrial production fell by 13.5%. Many companies are closing their offices and cutting their stuff. The unemployment rate jumped to a record 6.2%. Considering that China is one of the world's biggest exporters of goods, the existing situation will affect other foreign territories.
According to the latest research held by the Global Business Travel Association (GBTA), the global business travel sector is expected to take a revenue hit by about $820 billion. China is expected to lose $404.1 billion in revenue from corporate travel, followed by $190.5 billion in the loss for Europe.
The US economy is experiencing a deep toll as well due to the coronavirus outbreak. Many states and cities closed schools, theatres, gyms, offices, and restaurants. The President announced a temporary ban on large public gatherings and restricted entry from Canada and the EU. Layoffs have begun in ports, bakeries, travel agencies, cafes, and hotels. People isolate themselves at home. Economists worry that more job cuts are coming as businesses face sales decline.
The coronavirus COVID-19 pandemic could bring the global economy to stagnation. Let's see how it reflects on the digital market as people in some industries are losing traffic and conversions.
Digital Marketing Is Changing Under COVID-19 Impact
Organic Traffic Overview
From the various sources such as SEO and advertising companies, we see organic traffic decline due to the COVID-19 in such industries as construction, insurance, manufacturing, real estate, software, telecom, and transportation. Regarding healthcare, food, finance, and media industries, traffic has risen sharply.
Online travel and global event platforms are experiencing the most significant drop among other websites. For comparison, web traffic on grocery delivery has trended up worldwide.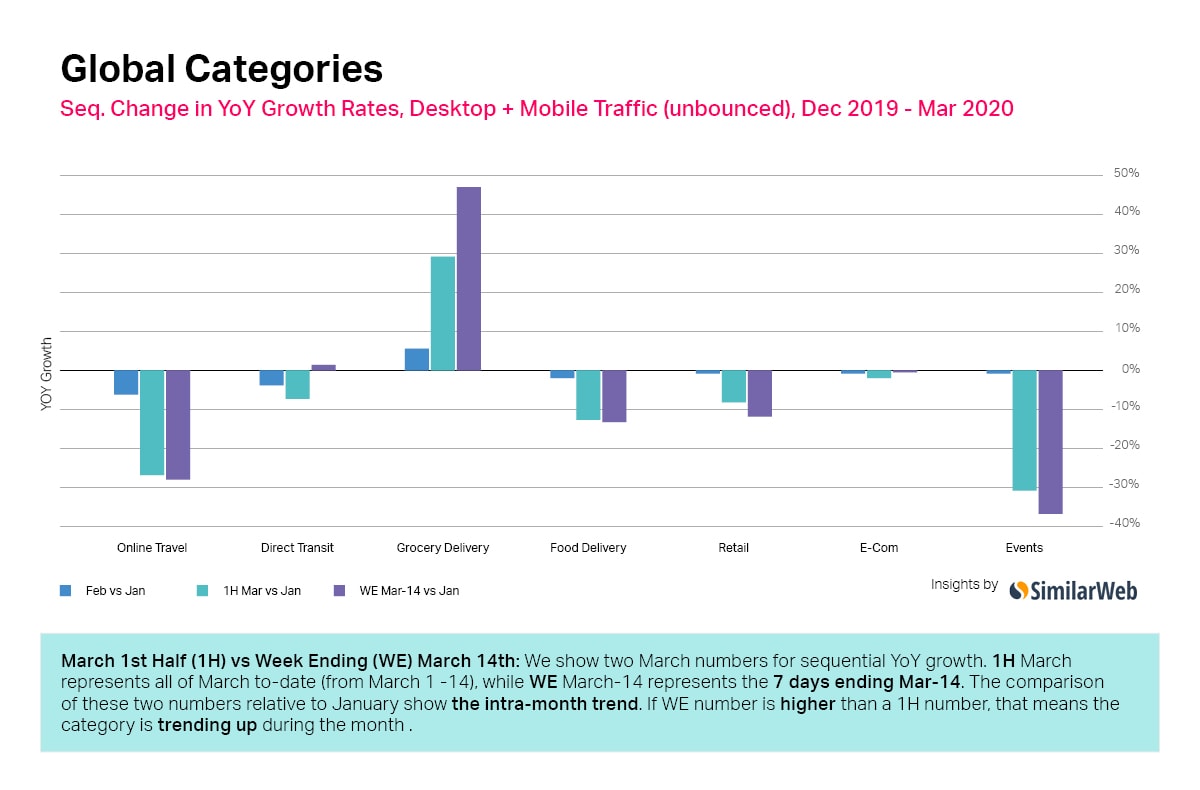 In the United States, online travel platforms and related sectors experienced traffic lowering. In the first half of March, the grocery delivery has risen, whereas food delivery has trended down since January. Traffic from the web conferencing services has drastically gone up. The reason is that thousands of people shifted to remote work for a period of self-isolation.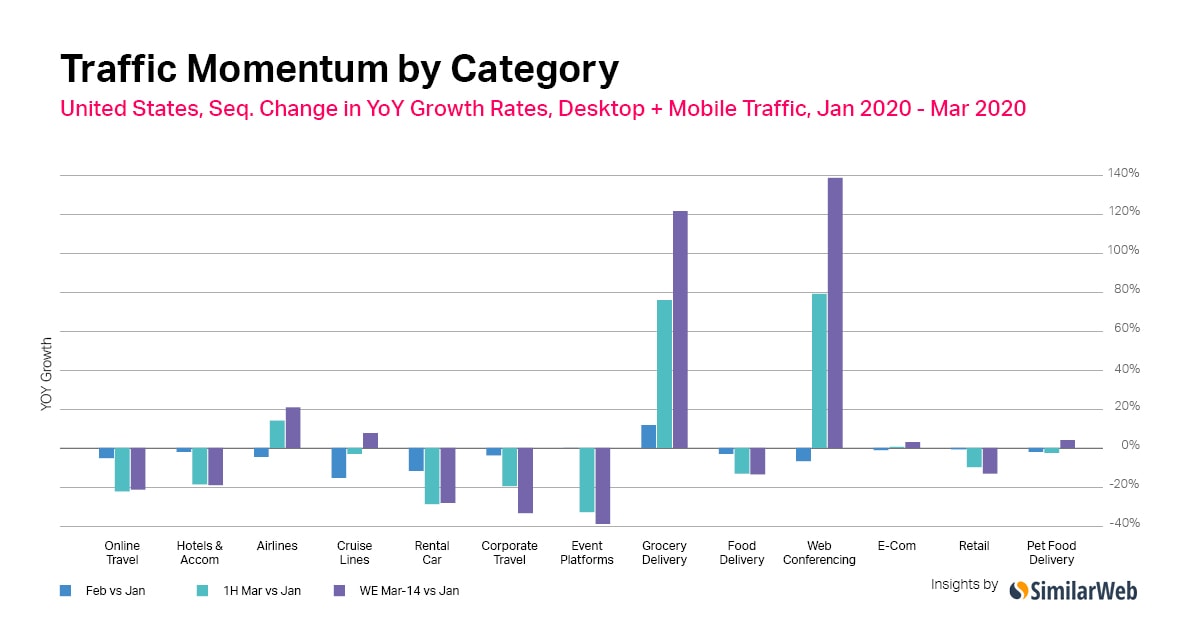 In Israel, the coronavirus crisis-affected such spheres as travel, retail, e-commerce, and car rental service. The traffic from the websites of related industries decreased amidst the unstable environment. Food delivery platforms are trending in mixed progress.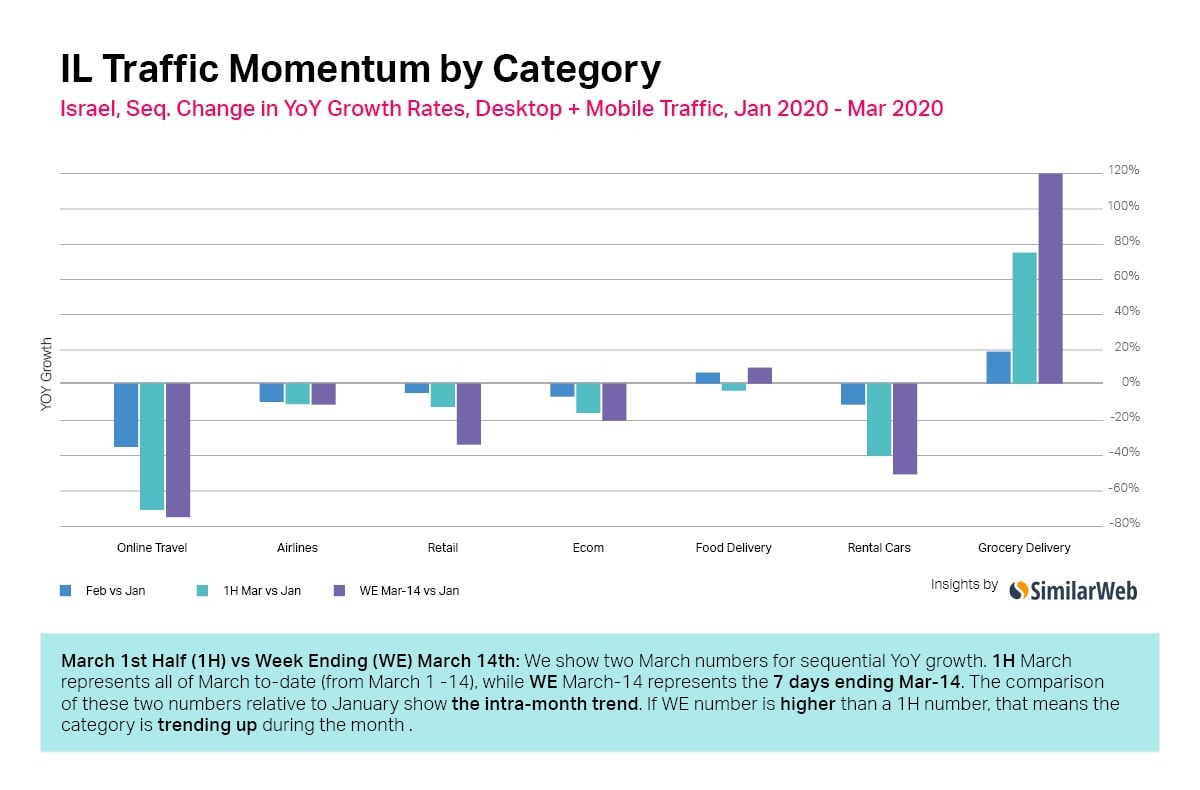 Ad Spend Analysis
As the virus was affecting more and more countries last month, the Adtelligent monitored the digital ad spend during March to know how the situation would evolve. So the data might be valuable for you to create your programmatic strategies for the upcoming months.
Ad spend change is varying depending on the advertiser category. We see a positive trend in such sectors as news, beauty, and healthcare. Traffic on the news websites has doubled in the second half of March, while the travel sites experienced about 50% reduction in ad spend. Such categories as sports and entertainment saw an ad spend drop from the first half of March.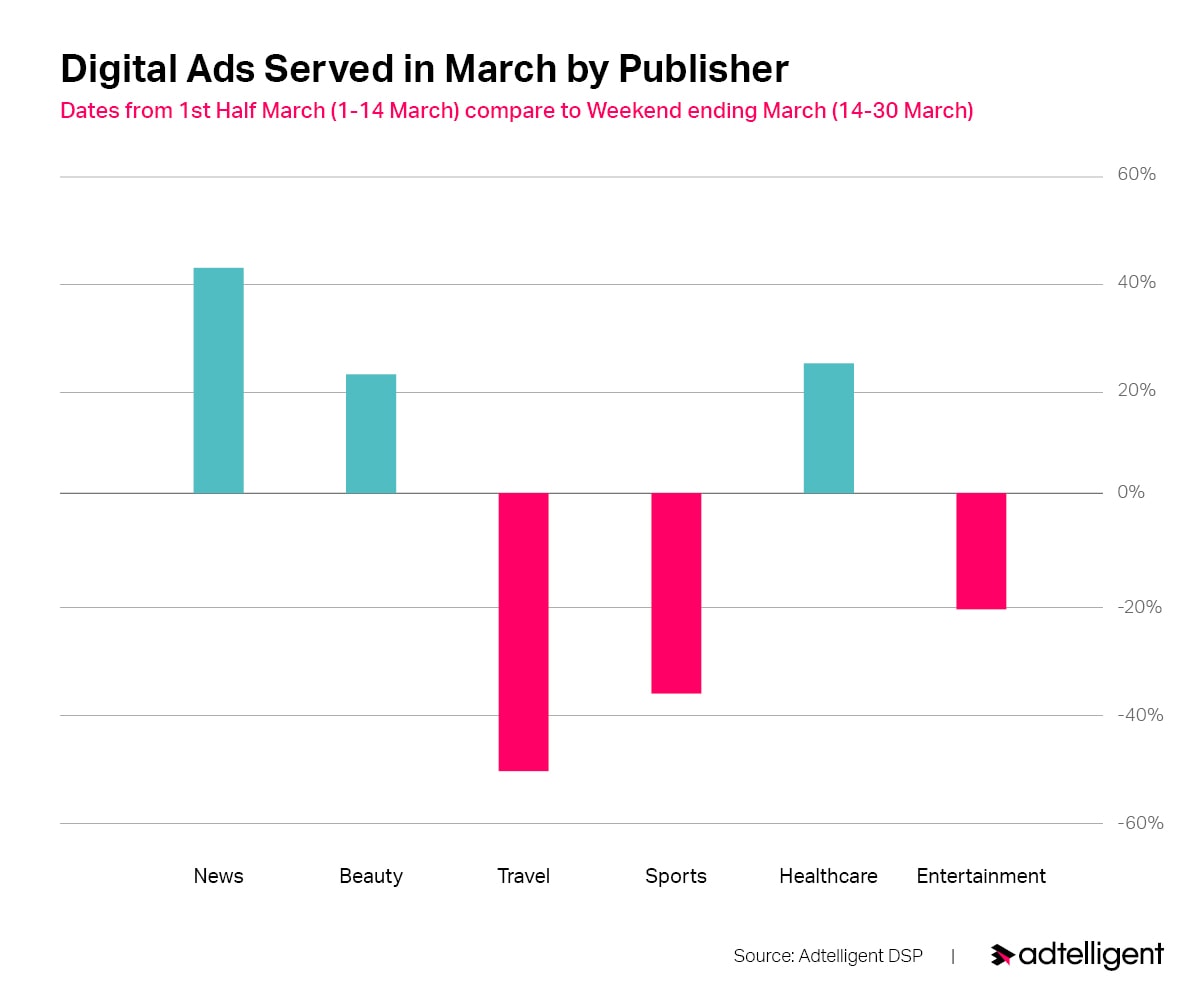 According to Pubmatic analytics, such sectors as travel, business, sports, and science see a reduction, while news, technologies, interests, and hobbies are experiencing increased ad spending.
The total media ad spend worldwide will reach $691.7 billion. It's a decreased rate from the last survey of eMarketer. They expected worldwide ad spend to rise by $712.02 billion this year. The media ad spend in China is expected to reach $113.7 billion, which is lower than their previous $121.13 billion estimates. Also, digital ad spend in China will grow by 13.0% in 2020 that is less than the last prediction of 15.2%.
China is one of the biggest supply chain partners around the world. Foreign companies dependent on China's goods and services may also start downsizing their ad spending to reimburse financial losses.
What Should Marketers Do During Coronavirus Crisis
Media consumption is growing since people are mostly staying at home during the quarantine or self-isolation to prevent infection. TV, mobile, PC-web, and OTT/CTV time viewing are up globally every day now.
Nielsen, a global measurement and data analytics company, predicts a 60% growth in content people watch. All this because during a global pandemic or any other crisis situation, people are using more media content to stay informed and for amusement. Thus ad ecosystem should frequently react to the high media consumption.
The circumstances are pushing marketers to think out of the box to save their businesses. Use crisis time to improve your brand in the market. Make sure your business is in line with the current situation and adapt it to the new realities. Improve your website content giving customers up-to-date information and relevant products that they might be searching for. Your buyers need to know you have a good dose of reality. Stay in touch with your customers and be aware of their concerns.
Experts are preparing us for the global recession. However, as history shows, the economic crash is the best time to double down. At this point, we recommend doing the business under the crisis as you have simply less competition. In some cases, it's easier to get the results because many companies shift to austerity or even make critical decisions. Don't be afraid to invest in advertising while your rivals are cutting back their expenditures.
History knows some success stories of the brand's creation during the Great Depression.
Conclusion
The world is under big pressure. Though, everyone hopes the coronavirus crisis will be over soon and will not impact us anymore. All we can do so far is to avoid crowded places and maintain personal hygiene.
Concerning marketing activity, we recommend keeping the gains your business made. This is the time to double down on marketing, so think unconventionally. This is a big mistake to stagnate your business and not go online to reach your target audience or obtain new users. Help your customers remain in good condition due to your goods or services while staying at home.
Tags