Three-fourths of the U.S. consumers are expanding their media sources with streaming subscriptions and TV-connected devices, according to Nielsen.
The growth of the content that people watch results from a wide choice of modern devices. It also reflects some social changes occurring worldwide. Thus, a recent coronavirus outbreak affected the global population and urged many people to stay at home for self-isolation. Being out of the physical information field and entertainment environment leads to a high increase in the viewed video content.
There is a prediction about the rise of OTT this year. It can be a good reason to expand your digital marketing plan and start OTT advertising. If you need to figure out the meaning and how it helps enhance the business strategies, keep reading the article.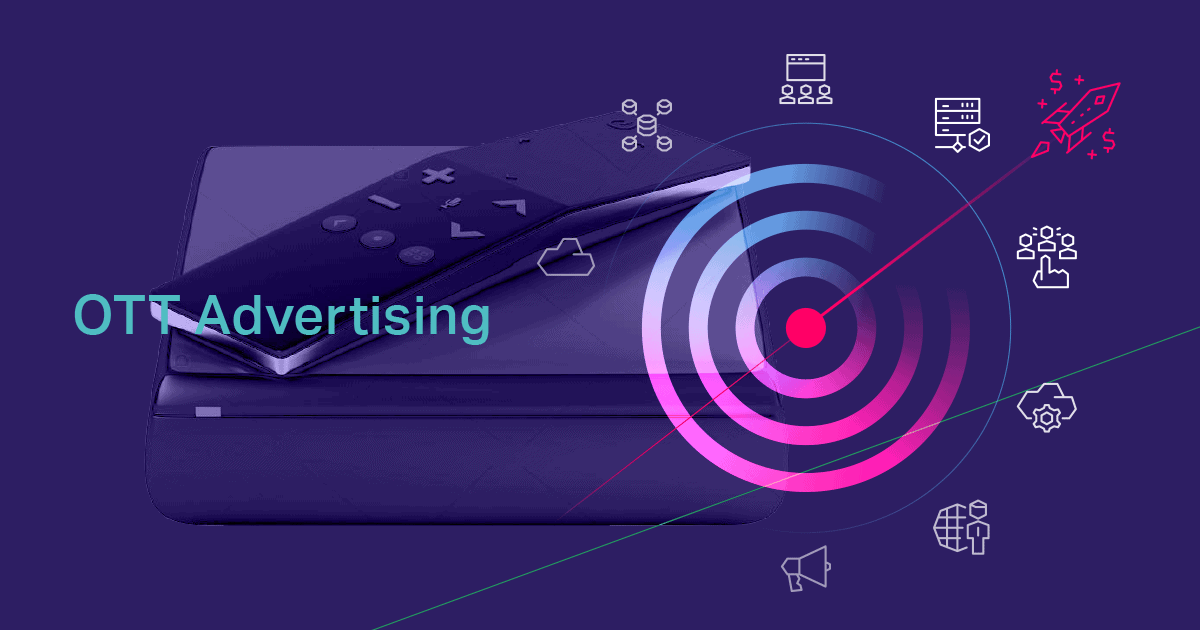 OTT Advertising Guide To Expand Your Digital Monetization
What is OTT Advertising?
OTT advertising is a targeted advertising content delivered on the OTT platforms and Connected TV assets through a streaming media by utilizing programmatic technology. Let's briefly see the meaning of these terms. They are slightly different. And many marketers used to substitute them.
Over-the-top (OTT) is a streaming media service provided by Netflix, Hulu, Tube, Crackle, Xumo, Apple TV Plus, Disney+, and other OTT platforms.
Connected TV is any TV device connected to the Internet. It can be online TV streaming services, smart TV sets like Apple TV, or Roku, and gaming consoles such as Xbox and PlayStations. However, major telecommunication companies who provide cable television also caught a direction to go. For example, NBCUniversal, a subsidiary of Comcast, launched an ad-supported streaming service Peacock in April.
As we see, Connected TV and OTT are not synonymous. Connected TV is the device, while OTT, on the other hand, is the method of content delivery.
Why is OTT advertising popular now?
OTT ad spends increased in 2019. Pixalate reported about a 330% rise in programmatic OTT/ CTV ad transactions in the United States and worldwide. According to the global marketing platform, OTT/ CTV apps, and supply-side platforms that serve for the programmatic advertising in OTT/ CTV, sharply raised over the last year.
eMarketer expects that digital video ad spending on OTT services like Hulu and OTT/ CTV platforms like Roku will grow in the United States this year and reach $14.6 billion by 2023. One explanation for the rapid growth is the popularity of the video content and OTT viewership particularly.

"The New Generation of Cord Cutters" study by Roku revealed the main factors of an accelerated shift to streaming services. There is plenty of high-quality video content and reduced prices for video-on-demand (VOD) for those who want to cut the cord but don't want to miss out on live TV programming that traditional pay-TV services offer. Moreover, 73 % of all video streamers from the Roku study don't mind watching an ad-supported video-on-demand (AVOD). Can't say the same for many traditional linear TV viewers who reported a lot of ads within the content. 73% of the respondents also mentioned the convenience of the use of streaming devices.
Emarketer forecasts that the number of pay-TV subscribers in the United States will decline from 86.5 million to 72.7 million between 2019 and 2023. Though, a new trend appears. The pay-TV subscribers also prefer watching the video content via streaming services. Thus, marketers do not miss an opportunity to run ads on traditional TV and streaming platforms.
Given the above, OTT ad revenue tends to increase. According to the report, OTT ad income will reach $159 billion in 2024, more than doubling since 2018. The United States and China, as reported, will control 56% of the global OTT revenue by 2024.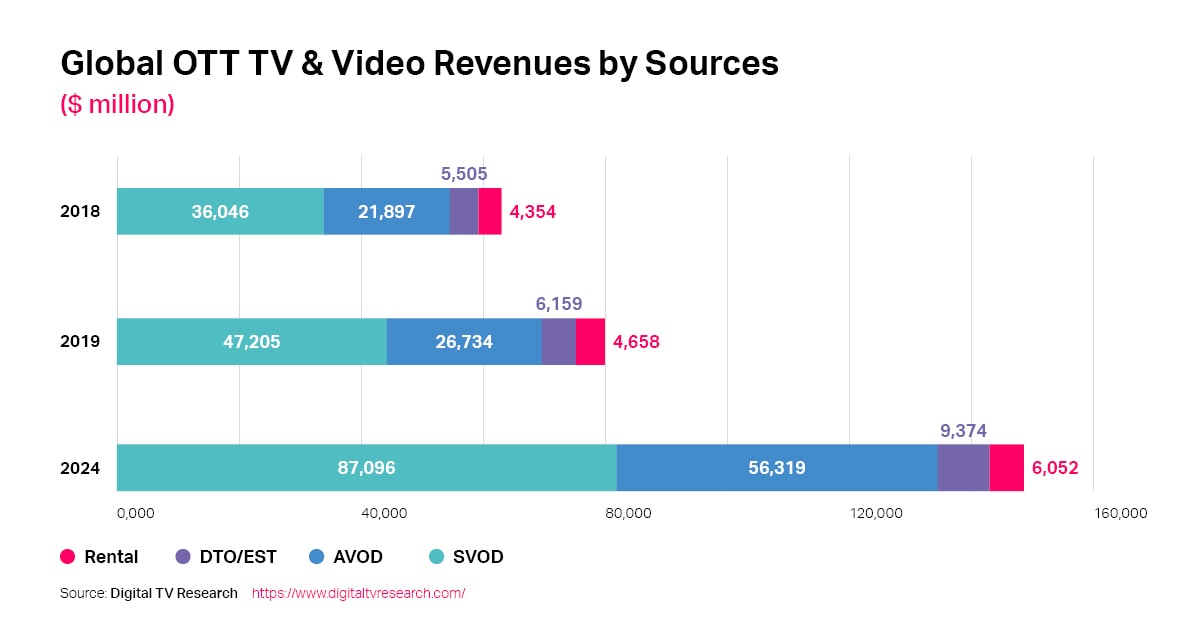 Benefits of Over-the-Top Advertising
Over-The-Top video advertising becomes trendy due to the benefits it brings to all participants of the ecosystem. It is free from the strict pre-planned schedules and geographic boundaries that traditional TV offers. The viewers like unlimited content as well as a flexible way of watching on various devices. Advertisers and marketers like that OTT advertising offers expanded capabilities. They can use OTT video ads to move the customers through the whole marketing funnel and track marketing performance. Let's list the main benefits.
1. Granular Targeting
In contrast to traditional TV that does not have targeting capacities, OTT advertising allows to use the audience detailed data and demographic characteristics. Marketers can design a more relevant and personalized ad, and move the customers through the marketing funnel to buy their products.
2. Retargeting Across Channels
Due to the various metrics such as website retargeting, IP targeting, and device thumbprints, marketers can realize cross-channel advertising. They can know exactly the history of the purchases and build the next marketing campaigns even more effectively.
3. Tracking Capabilities
OTT enables tracking the ad views, web and mobile downloads, and sales. Advanced data also allows following the performance of the marketing campaign, and building the next ad optimization based on the insights.
4. Dynamic Ad Insertion
It is a server-side video ad technology that enables serving the video ads into linear programming and video-on-demand content, and taking advantage of programmatic monetization across all devices with Ad Exchange for Video.
How does OTT advertising work?
Guaranteed Insertion Order is an old-fashioned type of direct deal between advertiser, agency, and publisher that contains the details of the ad placement. The setting is done manually.
Data-Driven Programmatic buys are based on real-time bidding that allows advertiser and agency targeting but does not guarantee set impressions or frequency.
OTT Ad Insertion Methods (CSAI, SSAI or "Stitching")
CSAI, or client-side ad insertion, is also an out-of-date method in which the advertiser inserts the ad into the platform before the video starts playing. This approach has some flaws. CSAI is not adaptable to live broadcasts, which is essential for news and sports programming.
In contrast, SSAI (server-side ad-insertion method) enables the ad display without interruption due to the stitching of the ad and video content. It allows carrying live programming and showing the ads without interruptions, and even makes ads to be clickable. SSAI OTT advertising eliminates such problems as ad fraud, ad blockers, and latency.
Here we will define the tags used for communicating with OTT devices.
The Video Ad-Serving Template (VAST) is an IAB specification that provides a standard ad response format for video players and enables video ads to be served across all compliant video players. It also contains information on how the ad should be performed. However, the VAST tag excludes the interactivity that VPAID provides.
Video Player-Ad Interface Definition (VPAID) is an enhanced version of the VAST tag representing a common interface between video players and ad units, enabling an interactive in-stream ad experience. Though, this tag doesn't support stitching, which is important for all pre-roll videos served in Europe.
Since June 2019, VAST 4.2 doesn't include VPAID. In the new version, SIMID and OMID replaced VPAID. OMID is for measurement and verification, and SIMID is for interactivity.
OTT Header Bidding
OTT Header Bidding is an advertising technology that allows selling the OTT ad inventory simultaneously to multiple demand partners. The major point is that the unified auction happens before making calls to the ad server, which means less latency. The OTT Header Bidding technology works with the JavaScript-based VPAID container. The bidding starts while the video is loading.
Because of the large number of demand partners, media owners used to need a single solution to manage the video content monetization and to gain more programmatic revenue. For this, a header bidding wrapper, which represents a special piece of code, organizes buyers and sets rules for the programmatic auction. Moreover, the wrapper allows managing the omnichannel inventory and gaining buying efficiency across different platforms.
How to start OTT monetization with Header Bidding
At Adtelligent, we designed an OTT advertising platform with a single wrapper solution for selling over-the-top content to the buyers and receiving the highest bids at the unified auction. Such an approach increases eCPM by 50% and provides granular analytical data and insights to make further ad optimization better.
Adtelligent Header Bidding Wrapper for OTT/ CTV represents a holistic server-side infrastructure that helps optimize all the processes and reach the premium audiences.
Header Bidding for OTT/ CTV is gaining momentum. It allows publishers and advertisers to get the most of the programmatic advertising. The technology is a trend in the digital marketing world, and it helps enhance business strategies.
Tags