Accelerated Mobile Pages or AMP, as it appears from the abbreviation, has been meant to help website owners improve their mobile site user experience. If saying formally and quote AMP.dev, who are the AMP creators, AMP means an open-source HTML framework to provide for straightforward web pages, fast and smooth-loading, and prioritize the user-experience above all else.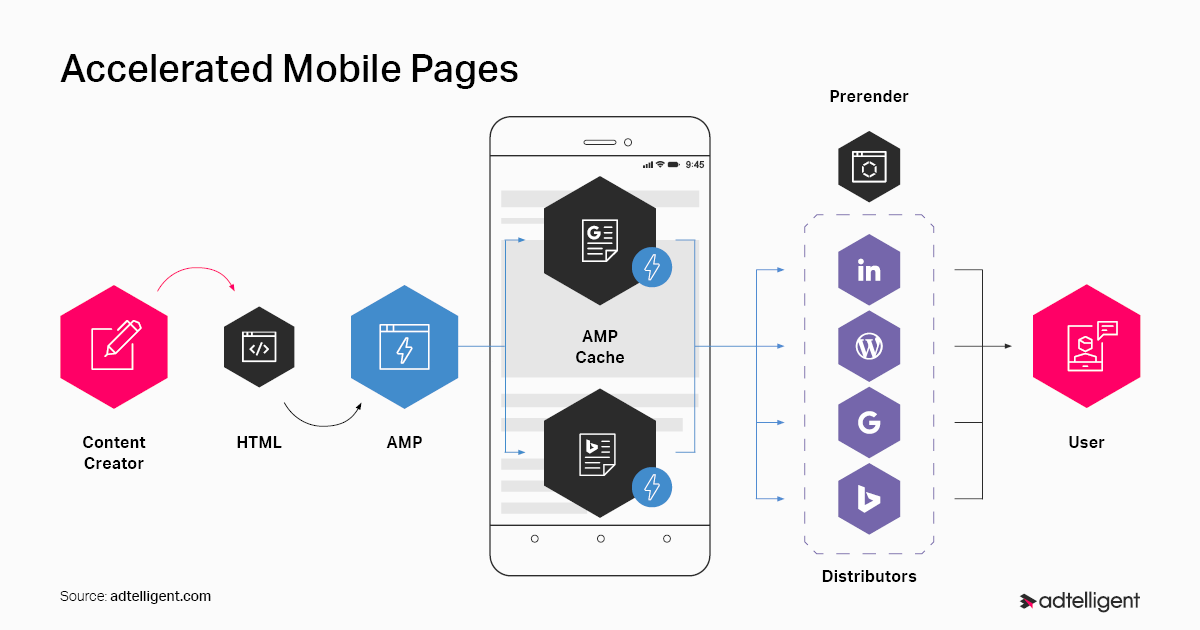 Today, the sophisticated blend of optimizations generated with the code boosts the AMP pages' instant loading and enables rapid and user-friendly mobile visitors' contact with websites.
Why AMP
Reddit, Flipboard, Twitter, LinkedIn, and many others have already implemented AMP since Google announced the launch of the AMP Project in October 2015. In the following years, Microsoft, Adobe, WordPress, and others have adopted the AMP pages, introduced plugins, and supported linking to AMP pages from iOS and Android apps. All of them have reported an increase in web traffic as a result of these innovations.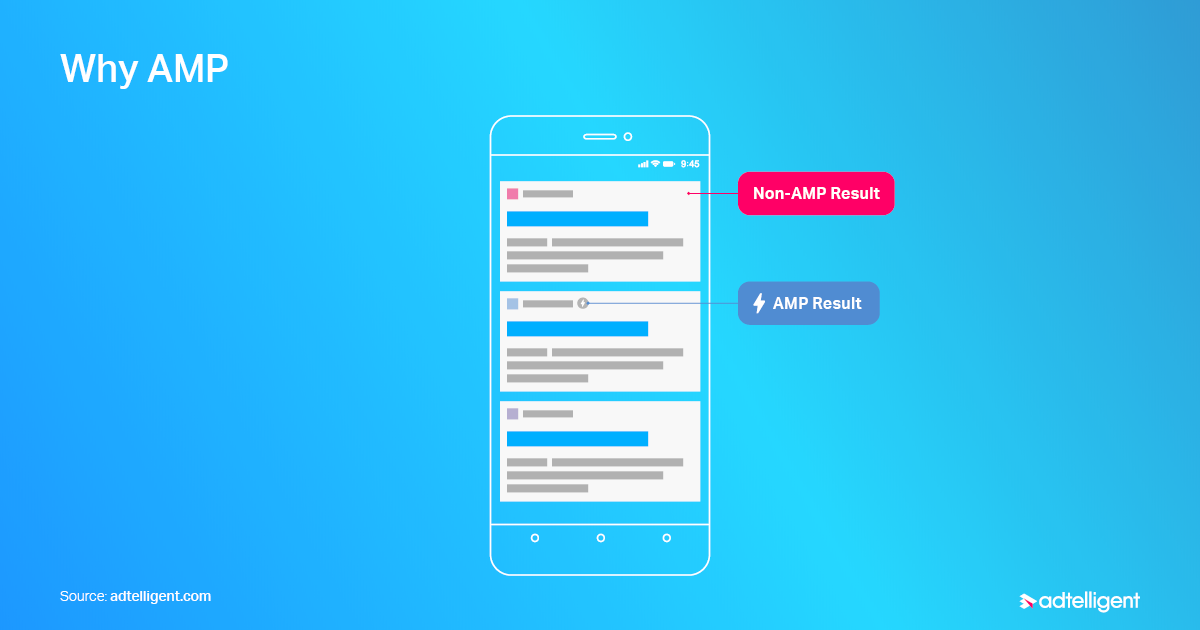 As per the faster loading time, the speed factor has become prevalent in countries with slow internet connections. This advantage has prompted publishers to gradually shift to the AMP solution for smartphones and tablets in these countries.
Besides, publishers have also become able to increase their revenues with AMP pages. To make it happen, they apply this approach:
Ensure the density of ads is sufficient through AMP as well as non-AMP pages
Constantly maintain ads views directed to the AMP pages
Estimate opportunities with video ads in AMP
Discover the RTC opportunities to enhance the AMP benefits
There are many more hints and clues on how to profit from the AMP framework. Instead, let's stop by and see what the AMP framework strengthened with RTC offers publishers.
AMP RTC
The mechanic of Real-Time Config or RTC allows calls for bid requests to 5 different vendors in 1 second as maximum. Upon that, RTC analyzes the bids and communicates the winner to the server. Publishers can also easily set up RTC with just a few lines of code to deal with vendors they prefer. Nowadays, many vendors have opted for RTC, and publishers reap better revenues.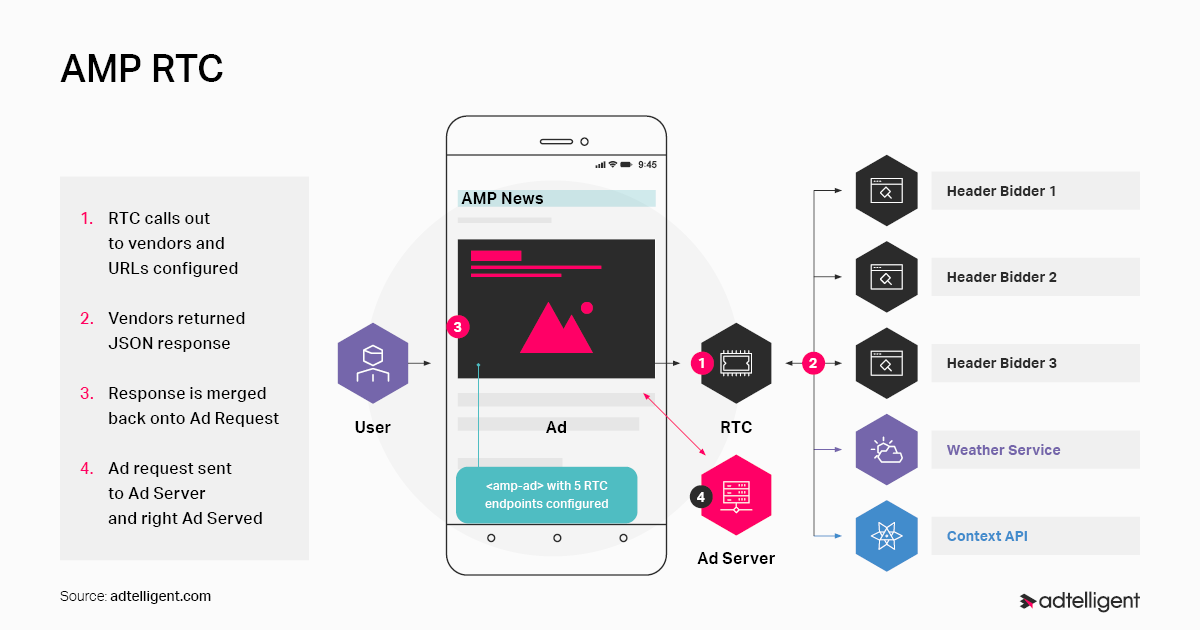 Meanwhile, this figure of 5 lurks a significant limitation: Publishers cannot gain more than 5 vendors (demand partners) per call, and the timeout cannot exceed 1 second. In these terms, wrapper-based header bidding could help overcome this limitation.
AMP Header Bidding Wrapper
AMP armored with header bidding wrapper is another opportunity for publishers to start monetizing with AMP. The fact is that the wrappers are the only way to overcome the AMP limitations and enable adding as many demand partners as needed. Apparently, using a header bidding wrapper requires the RTC framework to boost bids and thereby increase competition among demand partners.
Fast Fetching
RTC is also a great feature of the AMP fast fetching. It allows to select ad requests from the content and render AMP pages only when they are most likely to be viewed by users. Fast fetching offers means to tackle latency, improve viewability, and enhance user experience.
AMP Limitations
So what are the concerns that restrain publishers from using AMP pages?
First and foremost, it is the restricted number of allowed demand partners, as said above: with only five vendors in the list, the publisher's profit may narrow substantially.
Cookie syncing is another reason to give up AMP: It is crucial for demand partners to identify their users and then bid the right price primarily. Under AMP, the cookie syncing is allowed for only one demand partner out of the five.
At the same time, the AMP loading of content is very complicated. Many publishers experience under-monetization of their articles as they often cannot render scalable infrastructure to maintain the content and ads simultaneously.
The last but not the least disadvantage is that it takes time to add to and remove vendors from the ad list as it requires manually change the AMP page's code.
AMP Providers and Solutions
The Internet is not a simple thing. And it takes time and facilities to improve the performance of the mobile website. Therefore, such AMP providers as Google AMP and Facebook Instant Articles have literally given a hand to help vendors load their material (static content: words, images, and videos, etc.) to mobile devices faster and smoother if compared to common websites. Of course, these solutions have their pros and cons.
The same for Prebid: The community has thought through recommendations to make the ads compatible with AMP using Prebid.js. As a result, Prebid Server fetches demands and returns key-values targeting through AMP RTC protocol.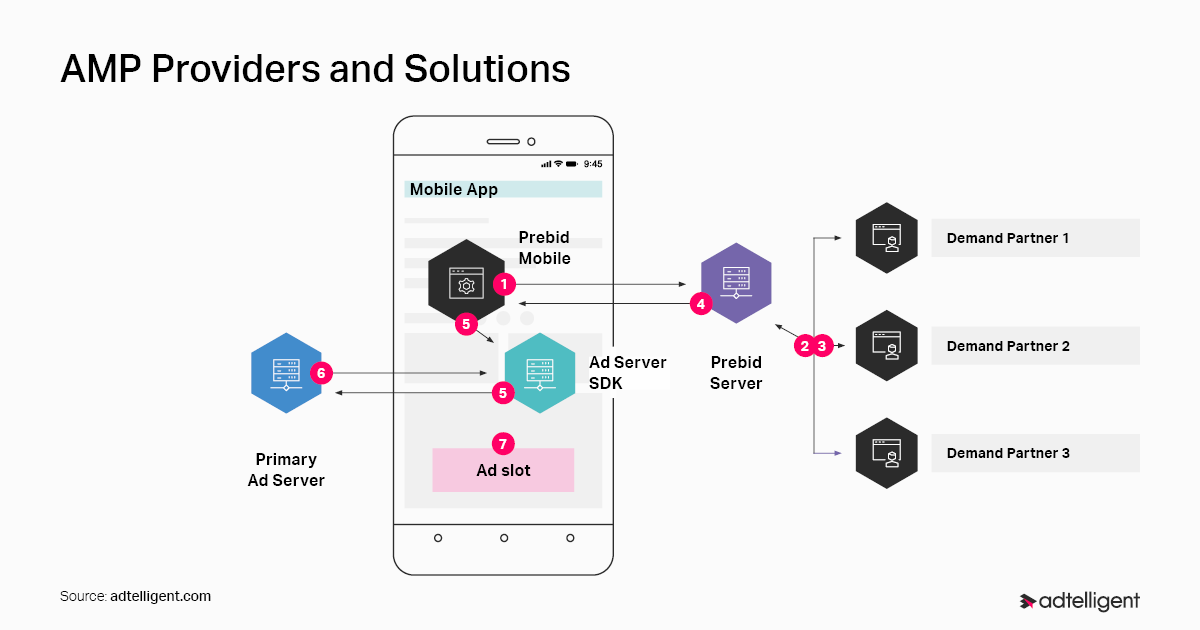 What Can Adtelligent Do for You?
This approach to monetizing ads offers a lot of opportunities while lurking many pitfalls. In most cases, publishers lack in-house expertise, which hampers progress and prevents them from earning revenues.
At Adtelligent, we offer feature-rich solutions, amp ad monetization that augment the publishers' workflows and strengthen their technology independence. For example, knowing how crucial is cookie syncing for display, video, and native ads, as well as many other types of online advertising, we have managed to solve the AMP cookie-syncing challenges. As a result, our customers enjoy a smooth transfer of the data between the platforms. Also, we have strong expertise and have gained the necessary experience to help optimize the publishers' inventory and configure their ad units to generate the revenue they deserve.
Tags