Though Black Friday and Thanksgiving Day are known for their long lines at the stores, 67% of Cyber Week buyers will be shopping online. It makes great value both for advertisers and publishers. During mentioned holidays e-retailers are willing to pay more for ad inventory. Thus, high demand leads to a CPM boost. The statistic shows that the cost per mille usually rises by around 25%.
In 2018 Adobe Analytics Data showed that Thanksgiving Day and Black Friday brought in $3.7 billion and $6.2 billion in online shopping revenue. Cyber Monday generated $7.9 billion in online sales. Moreover, Saturday and Sunday taken together grew 25% year-over-year, faster than both Black Friday and Cyber Monday.
There are thousands of early Black Friday and Cyber Monday deals publishers can take advantage of now. So in this article, we make an overview of three crucial moments on how publishers can increase revenue during these days.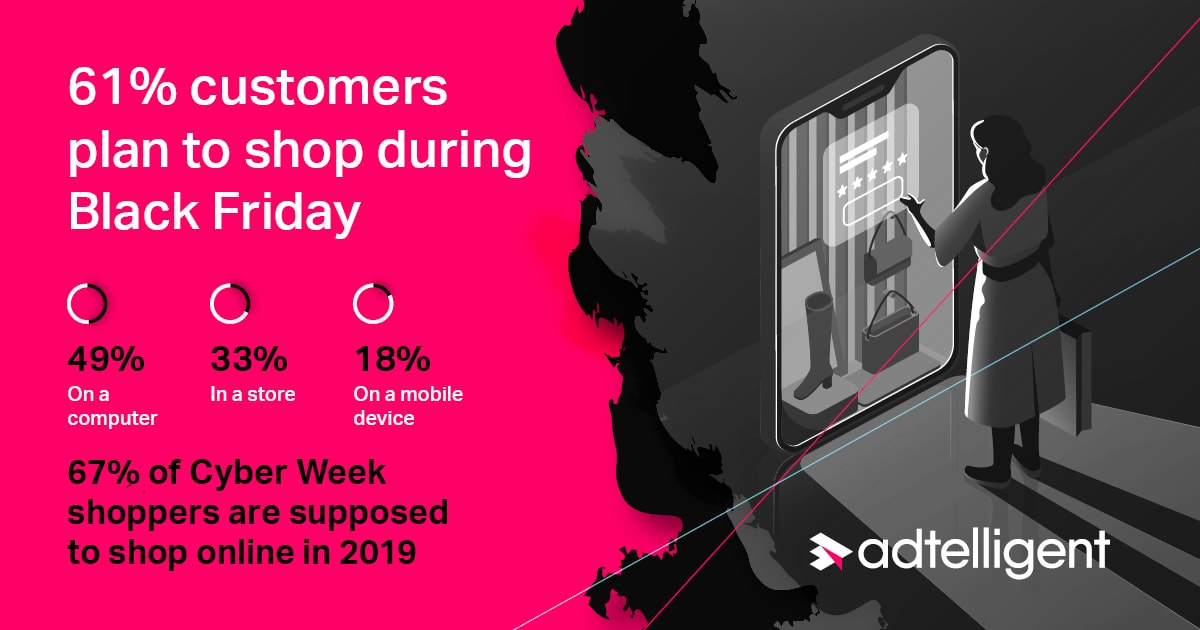 A short guide on how publishers can gain traffic on Black Friday
Black Friday and Cyber Monday generate tempting discounts for people around the globe. Although these days occur in November, people start doing their buying beforehand searching for various websites with attractive deals. According to eMarketer, over half of US shoppers start their holiday shopping by the end of October. So no wonder that publishers could experience traffic spike. To make the best of this period, they need to follow 3 steps:
Get the site(s) ready in advance
Publishers see an increase in traffic during Black Friday and Cyber Week. They can gain more traffic due to articles published in November a few weeks before shopping hype. A significant part of digital revenue comes from the articles published two-three months before Black Friday.
A high level of publishers' competition required careful preparation. That is why to be in the front, the marketing team should plan an editorial strategy. It's good to create content relevant to a thematic of the website(s) and connect it with the upcoming shopping season. Show in the articles how beneficial this period can be. Most important thing is that content should be full of fruitful insights for the audience. It can help to stand out and attract more people to visit the website.
There are also five technical issues most likely to cause web or mobile shopping sites to perform poorly during the busiest shopping experience. Among critical overburdened APIs, third-party website components, it can be a problem with overloaded ad servers. To prevent situations related to server scalability, external ad serving can be a website backup. It helps get minimum latency of page load so the audience can view content more smoothly.
Create holiday spirit through the content
As we wrote above, useful content is king. Interesting and full of new ideas articles relevant to your thematic will bring the most valuable asset. It's your audience. So during the holiday period and before it, generate information to draw the audience's attention. Do a little research to know which content could be valued by users.
Such types of content as purchase guides, lists of deals, and review articles ideally perform and bring more traffic to the sites. Knowing this, produce materials that will help your readers know the most precious facts about Black Friday, Cyber Monday and the deals they could want at a reduced price.
Optimize your sales strategy
We have already figured out that quality content will bring publishers more impressions. So what to do with it? No secret that they can monetize it. Since retailers are ready to pay a higher price than usual for impressions, publishers can boost their revenue during the shopping days.
Relying on programmatic sales of ad inventory, publishers can get more RPMs (revenue per 1000 impressions). It happens due to the dynamic nature of programmatic media buying.
Moreover, having high traffic and the trendiest video formats for an ad displaying, the publishers can attract brands with quality advertisements.
To be concentrated on media publishing, it's easier and more profitable to use programmatic ad selling. Publishers can make the most of it by presenting their ad inventory on the header bidding auction and getting maximum revenue from the advertisers willing to pay the highest cost for their ad displaying.
Conclusion
Black Friday and Cyber Monday are coming. Publishers should be ready for shopping hype across the Web. Following the tips above, they can gain more traffic and monetize their ad inventory. Thus, make a profit.
Tags