Here's what's new in Adtelligent SSP:
Highlights:
Release Notes: Simplified Ad Monetization Platform, Effective Reporting, Support of Sellers.json
1. UI improvements
First things first, we went away from the gear wheel setting sign and arranged the whole Source/Campaign information into two tabs located under the main menu:
Dashboard
Source/Campaign settings
Dashboard
Represents the stats for today (1), the percentage of remaining caps (2), performance per selected date range (3) and connected demand/supply tabs (4).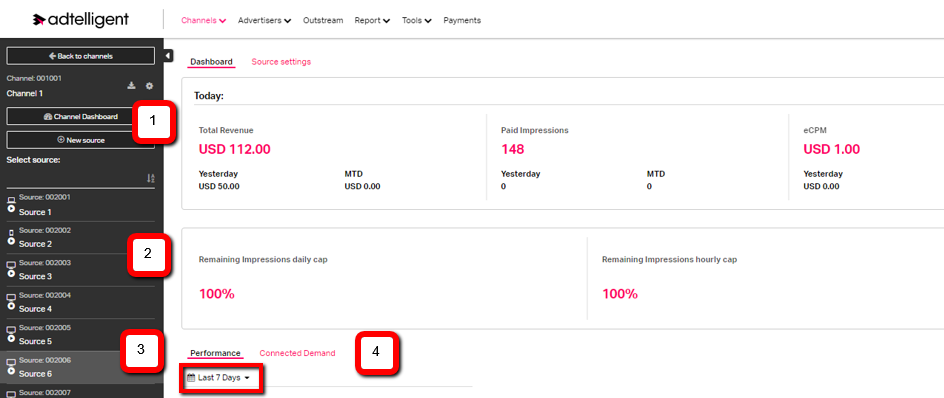 Capping
Shows remaining percent of the cap set on the entity e.g. if you set 50 000 daily impressions limit, while 25 000 used, you'll see 50% on the dashboard. If no capping set there, N/A will be applied.
Performance
It allows you to easily track the way Source/Campaign was working during a selected period of time.
Connected Demand (for sources)/Supply (for campaigns)
This tab contains all aligned to the entity Sources/Campaigns. Comparative data allows you to keep an eye on the real-time performance for today compared to the previous hour e.g. you check stats at 5 pm, the comparison will be done according to 4 pm. In case any of the entities have bad results, they can be easily removed using Select option – just pick the campaigns and Remove. To jump into the entity settings, click on the name.


Targeting sign near the name will let you know whether there are any GEOs, B/WL or player sizes applied to the Source/Campaign.


2. Source/Campaign settings
Connect Demand/Supply
Here you can now connect only relevant demand/supply.


Using various filters will help you sort and find the supply/demand you need, just apply the required filter:


With multi-select, you can choose several campaigns at once and Connect (button at the right corner above the stats grid) them to the entity. Targeting column will let you know if any Campaign/Sources have B/WL, GEOs or player sizes set.
3. Reporting
An ability to remove campaigns from the sources appeared in the "Reports" section. Now you can just pick a bunch Source – Campaign, tick campaigns you want to remove from the source and click the "Remove" button.


4. Support of sellers.json
It can be found in the Channel settings. There are 4 options available:
Append to sellers.json: we append Adtelligent or white-labeled domain (company.com) to the calls from sources at the end of the supply chain mentioned in sellers.json. If there's no sellers.json passed from the initial call, then we create it indicating that it's not complete.
Override sellers.json: we overwrite sellers.json chain placing publisher.id as initiator along with setting an indicator that the file is complete.
Pass sellers.json without changes: passing sellers.json without any changes made.
Do not pass sellers.json: we remove sellers.json from the request and don't send it over further.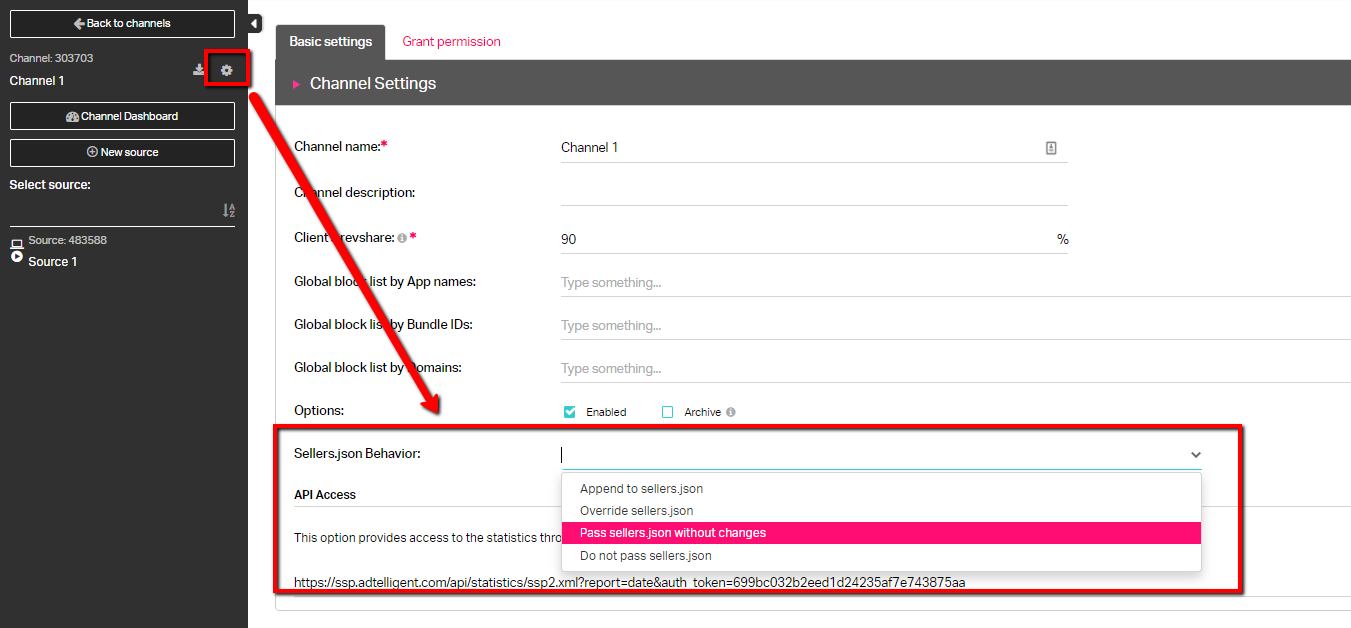 We believe that new features will lead to your seamless work with the Adtelligent SSP focused on your business goals.
New to Ad Monetization Platform? Get all your questions answered contacting us directly.
Tags